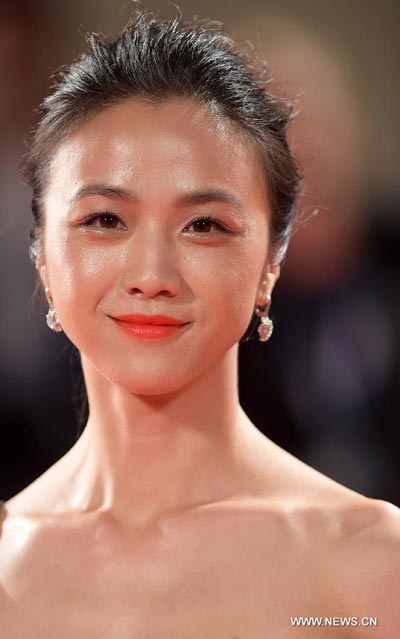 Actress Tang Wei poses on the red carpet for the awards ceremony at the 71st Venice Film Festival, in Lido of Venice, Italy on Sept 6, 2014. "The Golden Era" directed by Ann Hui was screened as the closing film for the festival. [Photo/Xinhua]
VENICE -- China deserves better international film festivals given its film industry's "huge" development in recent years in terms of technology and market, said the Director of the 71st Venice International Film Festival Alberto Barbera in an exclusive interview with Xinhua.
As far as technology is concerned, Chinese film industry is "the same quality as the American ones as there are many joint ventures between Hollywood studios and Chinese film production companies. They share the same technology and studios," said Barbera.
The cooperation among the industry is close, according to Barbera.
"The only thing that needs to be improved for the Chinese cinema is the fact that they now mostly producing films that are devoted to local market. The day when we are be able to make big films for the international audiences will be better," He said.
"Art is a bridge," said Barbera, adding that Chinese film industry can contribute more in uplifting its international influence.
According to him, China also has big and strong enough human resources in film industry. "China deserves better international film festivals, home and abroad."
"If there is any suggestion for Chinese counterparts, I would say always focus on the quality of films on the first hand, since that is crucial for holding good film festivals," said him, while noting that the concern on market is also a must.
"As the oldest film festival, we invite Chinese movies to the Venice Film Festival from the beginning. There are three movies showing in this year's festival. We attach great importance to Chinese elements," He said.
Among the three movies mentioned, Director Wang Xiaoshuai's movie "Red Amnesia" is contending for the Golden Lion, the highest prize given to a film at the Venice Film Festival, while another movie "The Golden Time" by director Ann Hui was chosen to close this year's festival.
Beyond doubt, the cooperation with China will go on, said Barbera.
About the prospect of the Venice International Film Festival, Barbera said that "we will keep our own style," giving priority to the quality of films instead of market.
The 71st Venice International Film Festival lasts from Aug 27 to Sept 6 this year.