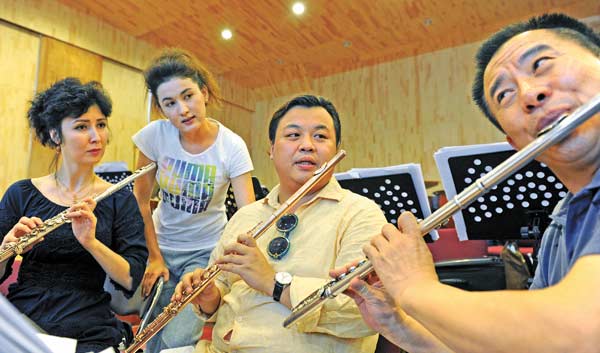 Musicians from the Xinjiang Philharmonic and Shanghai Symphony orchestras share their knowledge of instruments in Urumqi. Guo Xinyang/China Daily
Musicians from opposite ends of the country enrich each other's classical traditions, Zhang Kun reports from Urumqi.
Two conductors stood on the podium, waving their batons at the same time. Such was the unusual sight upon the conclusion of the concert in celebration of the 60th birthday of Xinjiang Production and Construction Corps.
It took place during the Shanghai Symphony Orchestra's second visit to Xinjiang Uyghur autonomous region. It also marks the beginning of more extensive communications between the music communities of Xinjiang and Shanghai.
More than 100 musicians from the Shanghai Symphony Orchestra, led by its artistic director Yu Long, took the five-hour flight to Urumqi, the capital of Xinjiang, to present the concert for the P&C Corps on Aug 4.
The People's Liberation Army established these production and construction corps in China's sparsely populated regions in the 1950s, first to promote security and then development. Today Xinjiang P&C Corps is the only one still in operation, with more than 2.6 million people.
As the concert neared its end, Yu invited his former schoolmate from Shanghai Conservatory of Music, artistic director of the Xinjiang Philharmonic Orchestra Abdurahman Ayup, to conduct an encore piece adapted from a local ballad.
"He is an exceptional musician, and is leading a world-level symphony in Xinjiang, the best orchestra in western China," Yu says of Ayup.
Then he invited Ayup to conduct with him for the concluding piece. "We studied under the same mentor, so we conduct with the same style," he says.
It was strange at first, to have two conductors on the podium, but when Ayup turned to face the audience, and encouraged them to sing along with the melody of Ode to My Motherland, the crowd of more than 2,000 joined in with passion.