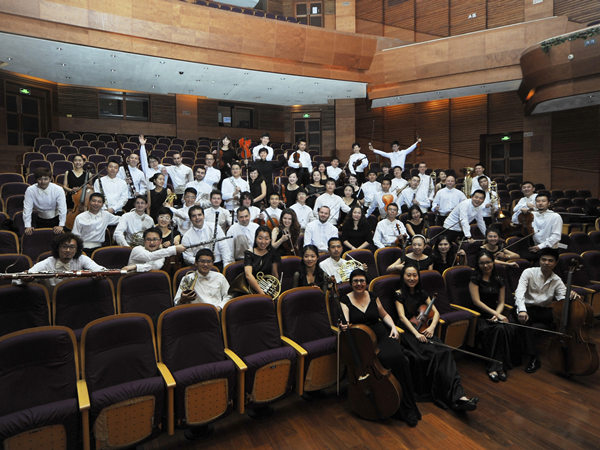 Guiyang Symphony Orchestra thrives without government financial support. Photo provided to China Daily
Symphony orchestras around the world find it hard to sustain themselves financially. In China, where classical music is on the rise thanks to a booming economy and culture promotion, the solution has been government support.
However, among the 11 professional symphony orchestras from the Chinese mainland performing at the ongoing Orchestra Festival held at the National Center for the Performing Arts, Guiyang Symphony Orchestra is an exception.
Founded and supported by a private enterprise based in Guiyang, capital of Guizhou province, it has become a popular symphony orchestra in just five years. Performing concerts to full houses every Saturday in Guiyang, it has attracted top musicians, including Li Xincao and Chen Zuohuang, to be artistic directors and conductors. It will perform in Hong Kong, Europe and the United States for the first time throughout 2014 and 2015.
But first, an upcoming performance at the NCPA will see 80 musicians from the orchestra, including more than 20 from the West, playing Sibelius' Symphony No 1 and Beethoven's Piano Concerto No 5 under the baton of Chen.
The orchestra's founder, Huang Zhiming, is well aware of the barriers such a new enterprise faces. However, unlike many wealthy businessmen who take classical music as a status symbol, Huang - the man behind Xingli Group, the largest retail enterprise based in Guiyang - is actually doing something about it.
With a 30 million yuan ($4.80 million) investment from Huang's Xingli Group, the orchestra made its debut performance at Guiyang Grand Theater in September 2009.
The 53-year-old says he acted out of a pure passion for classical music and a desire to give back to the city where he was born and grew up.
Guiyang, in remote Southwest China, like many second- and third-tier cities has been striving to develop its economy by building new roads and houses.
But while the economy developed quickly, "people in the city didn't have much entertainment to fulfill their spiritual world", he says. "They just killed time by playing mahjong and going to Internet bars. Some children have never even listened to classical music, which is really sad."
Classical music has been in Huang's life since he started learning violin at age 10. He was a violinist in the military at 17 and later worked at the Singing and Dancing Troupe of Guizhou Province. Due to the troupe's bad management, Huang started his own retail business in the 1980s, which later expanded and accumulated wealth for him.