Orchestras forced to play for their supper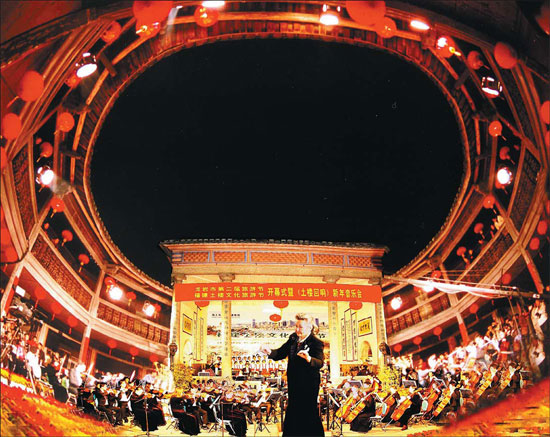 Zheng Xiaoying conducts the Xiamen Philharmonic Orchestra inside a tulou, the traditional abode for Hakka people. Like many of China's orchestras, hers reaches out to the public by presenting concerts close to where people live. Lin Mi / For China Daily
Classical music may be on the rise in China, but orchestras are still struggling to find an audience. Whether they are used to add cultural depth to a municipality or educate the public about the beauty of art, they have to constantly prove their worth to both sponsors and the masses.
Related: Classical music's great champion
Symphonic music is more revered than loved in most Chinese cities. But one musician is bent on changing that. With guileless sincerity and boundless energy, she has won over skeptics and added luster to a city whose music tradition was for a while disrupted. More...
How do you add culture to a city? To some in China, a shortcut is to create a symphony orchestra. There are around 60 such orchestras across the nation, but their administrators are not celebrating. Instead, whenever they get a chance, they tend to launch a chorus of grumbling.

The cacophony of complaints lamenting a lack of government support and a shortage of paying audiences is in stark contrast with the mellifluous sounds produced by the grumblers. Yet, you cannot blame them. They live in an age when the State umbrella is folding, but the dark and rainy clouds have not yielded to a bright patch of sunlight.
The government's continuous efforts to push performing arts groups, including symphony orchestras, from the tight embrace of total State ownership into the wild and stormy sea of the free market is proving more difficult than expected. A Chinese city may be populous, but only a select few are ardent lovers of classical music. According to Cao Yiji, a manager with the Shanghai Philharmonic Orchestra, the city of Shanghai, with more than 20 million residents, has around 5,600 people who patronize 10 or more concerts a year while the Israeli city of Tel Aviv, with 3.4 million, has more than 20,000 loyal consumers of classical music.
As a result, revenue from paying audiences account for less than 10 percent of income for most Chinese orchestras. The largest sponsor is still government, even though they are technically no longer the "owners". Tan Lihua, music director of the Beijing Symphony Orchestra, emphasized the importance of "access to the top leaders" to obtain funding. Beijing spends 30 billion yuan ($4.8 billion) on culture each year, he said at the annual China Symphony Summit, held in Xiamen this week, and giving a few dozens of millions to a music organization is "peanuts".
"To become a giant of culture, we'll have to jump on the bandwagon of getting money from the government," he says.
A Chinese orchestra produces three kinds of concerts. The first is the season series, which more or less determines the artistic quality and the stature. "You have to present a regular season. If you're unable to play Mahler, go play Beethoven or Dvorak," says Tan, whose orchestra is among the top in the country, with 36 programs set for the 2012 season. The orchestra even commissions new works from Chinese composers.
For more X-Ray, click here