Ear to the ground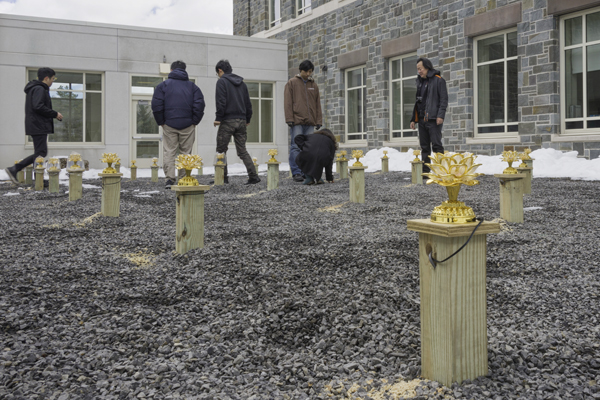 A sound art exhibition at Colgate University showcases works like Dajun Yao's Garden of Buddhahood, featuring 45 Buddhist chanting lamps. Courtesy of Mark Williams and Colgate University
US art show tunes in to the sounds of China, Kelly Chung Dawson reports in New York.
During the decades in which pop music and culture were helping solidify America's tradition of sound art, China was essentially in a cultural vacuum.
Since then, every type of Western music has made its way to the country, providing generations of younger Chinese an education in one sonic rush. This in turn helped produce a community of sound artists that lacked an indigenous foundation but had an excess of information - a contrast that makes Chinese sound art particularly interesting today.
Revolutions Per Minute, a new exhibition at Colgate University in central New York State, showcases 35 installations of sound art - indoors and outdoors, and on and off campus in the village of Hamilton, New York. Using speakers, video projectors, iPads and 64 "chanting machines", the exhibition marks the first survey of Chinese sound art anywhere, including China.
"Every town or city has its own soundscape," says co-curator Wenhua Shi, who teaches art and art history at Colgate.
"We want to show that sound relates to all humans. Everyone can relate to sound; it crosses geographical boundaries and time. You just have to open your ears to that experience," he says.
A 36th piece will result from environmental noise collected throughout Hamilton during the exhibition, which runs through April 26. In addition, four of the 30 featured artists will remain in residence at the university. Xie Zhongqi, Wang Changcun, Samson Young and Xu Cheng (part of the Shanghai noise group Torturing Nurse) will collaborate on live performances and workshops with Colgate students.
In an essay, co-curator Dajun Yao, a sound artist who directs the Open Media Lab at the China Academy of Art, writes: "Today's China is one of the most rambunctious and noisy countries in the world. Rampant noise, especially noise in public space, such as the broadcasting of nonstop background muzak at Shanghai subway stations, on railway trains, individuals broadcasting their private cellphone conversations at high volume, etc. This different ideology of sound, one of the most negative aspects of living in China, is, ironically, also what imbues the society with inexplicable acoustic energy.