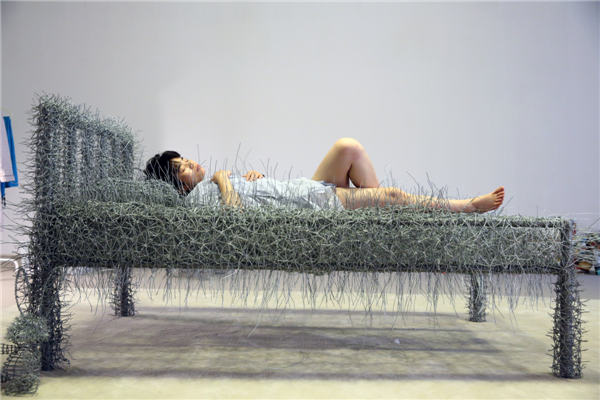 The point of the exhibition is that Zhou Jie acts as she would in her regular daily life. She says she usually doesn't worry about what people say, or if they feel disturbed by her work. Jiang Dong / China Daily
Interview | Zhou Jie
Nude photos of a young Beijing-based artist provoked unwanted controversy as her new exhibition opened in the capital.
Every day, artist Zhou Jie fields all sorts of questions - some mundane, some unexpected, and some downright offensive - from visitors to her exhibition 36 Days at the Beijing Art Now Gallery.
For the project, a mix of performance art and live sculpture which started on Aug 9, Zhou will live in the exhibition space for 36 consecutive days, accompanied by just a partially constructed single bed and a pile of half-finished toys made from wire, several sets of clothes, food and bottled water, and three transparent dustbins.
"I want to exhibit my everyday life here, including sleeping, eating and working, and I am open to interaction with the audience," Zhou explains. "But people often ask me when I'm going to lie on the bed, and some even want me to be naked. I didn't expect this when I planned the exhibition."
The 28-year-old earned a master's degree in sculpture from the China Central Academy of Fine Arts, one of China's top art universities, in 2010.
When Zhou started planning the solo exhibition in June, she didn't think it would become a cause celebre on the Chinese Internet. That happened when photos of her lying naked on the wire bed were posted on the Internet on Aug 9, prompting a huge amount of online speculation and comment about the supposed 36-day "naked performance art". Some of the commentators even joked about how she would deal with the inconvenience of having her period.
Within a few days of the first piece appearing on the news site ifeng, the media, domestic and foreign, and the public, streamed into the exhibition hall in northeastern Beijing to take photos and film reports.
But to their surprise, the visitors discovered Zhou always wore a nightgown, or a cotton vest and shorts. Even more disappointing was the realization that she had no intention of disrobing in public again.
Related: Art imitating life, and vice versa