Zhou Zhou, or formally Hu Yizhou, is mentally handicapped. But his extraordinary music talent has opened a new world for him.
Zhou Zhou was born with mongolism as a result of 21Trisomy Syndrome on an April Fool's Day in Wuhan, Huhei province. Though he is 36, his intelligence quotient is just 30 percent that of a normal person.
He does not know his age or recognize bank notes, yet he knows all the parts of the instruments in a symphony.
He might be the only conductor in the world who does not read music, yet a special music talent enables him to memorize the melodies of all the sections in a piece soon after he hears it.
When he was a boy, he often went to rehearsals with his father, a cellist in Wuhan Symphony Orchestra in Central China's Hubei province. He was always quiet at the rehearsal hall, listening to the music. When the orchestra rested he would go to the podium to practice.
Years went by. He grew up with symphonic music and became a special conductor.
"His pure heart enables him to concentrate on the music and convey the pure beauty of music," said well-known conductor Jiang Xiebin.
With his music, Zhou Zhou toured around the country and the world, bringing people much joy.
In 2006, his mother died of cancer and since then he has been out of public view. In July 2014, he returned to limelight when he gave an interview to China's Central Television.
Here's a look at his current life.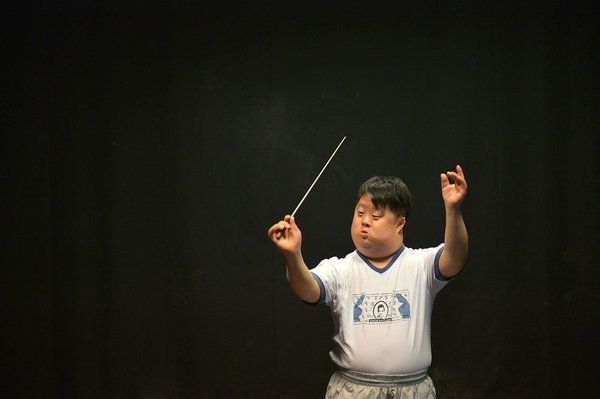 Zhou Zhou practices conducting in Beijing, Aug 6, 2014. [Photo/CFP]