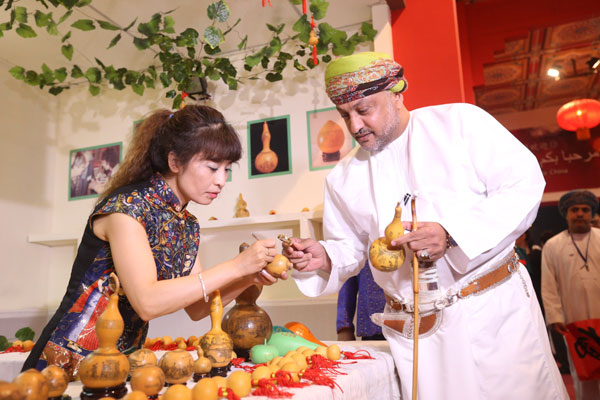 A local official looks at Chinese handicrafts at the Muscat Festival 2015 in Oman. [Photo by Du Yang/China Daily]
Subheadline: The largest ever team of artists to attend an art fair in Oman has showcased China's unique cultural crafts. Deng Zhangyu reports.
Traditional Chinese art and crafts such as kung fu, tea art, calligraphy, knotting and embroidery were showcased to the Arab world when a team of 43 artists attended the monthlong Muscat Festival held at the Sultanate of Oman, a country of the Persian Gulf.
Muscat Festival 2015 was held from Jan 15 to Feb 14. It is Oman's biggest annual art event and attracted more than one million visitors from around the world, especially those from nearby Arab countries, according to the Festival committee. China Pavilion was one of the hottest attractions in the international art zone where about 10 countries including France, Egypt and Turkey had their own pavilions.
Although China has taken part in the annual festival in previous years, this year it sent its biggest art team to Oman since the two nations established ties in 1978. Oman used to be a key country on the Silk Road to ship goods from the East to the West.
It's the third time that the Ministry of Culture has sent an art team to take part in a cultural fair in the Arab world after their attendance in Saudi Arabia and Dubai. In April, it will send a team of artists to Algeria.
"In recent years, exchanges relating to culture, education and economy between Arab countries and China have increased greatly. It's a good chance for China to emerge itself in the Arab world when the trend of Look East is on the rise in Arab states," says Xue Qingguo, an expert on Arab world and a professor at Beijing Foreign Studies University.