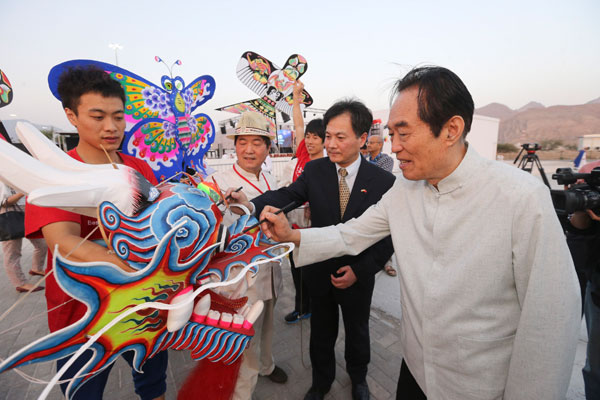 Chinese scholars Yan Chongnian (first from right) and Xue Qingguo (second from right) paint the eyes of a kite dragon on the opening of the same fair.[Photo/China Daily]
Xue explains that throughout history, China has never invaded Arab countries: like most Arab states, China has a long history and is rich in culture. A well known quote from the Prophet Muhammad, an important figure in the Muslim religion, tells people to seek knowledge as far as China. Many people in the Arab world associate China with wisdom.
Because of the growing exchanges between China and Arab countries in fields of economy, culture and education, the number of Chinese learning Arabic is growing. Ten years ago, there were about seven colleges offering Arabic class. Now more than 40 collages across China offer classes in Arabic.
The support from the national level for literature translation of both Chinese and Arab is increasing annually, says Xue. He is also the translator for well-known Arab poet Adonis.
"I think Chinese culture and Arab culture share something essential in common. Both the ancient cultures believe in harmony," Xue says.