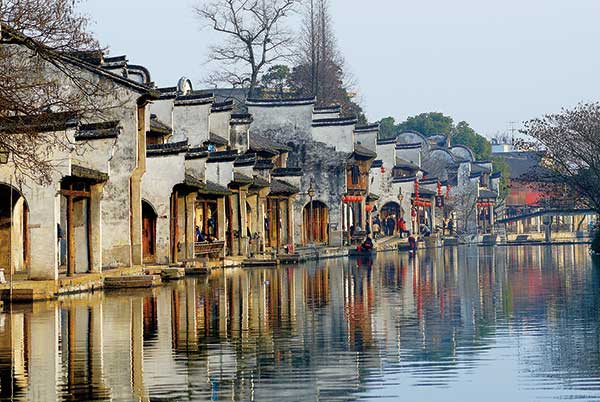 An old waterfront street in Huzhou.[Photo provided to China Daily]
China has vowed to boost tourism to G20 countries by enhancing cooperation, encouraging investment, removing visa barriers and adding direct international fights.
During the seventh G20 Tourism Ministers Meeting on May 20, Li Jinzao, director of the China National Tourism Administration, said Beijing will seek more agreements that allow visas on arrival and more visa waivers. It will also simplify customs clearance procedures.
Tourism was recognized as "a vehicle for job creation, economic growth and development" during the G20 leaders meeting in June 2012. Now, the number of international tourists and the volume of tourism revenue in G20 economies accounts for 70 percent of the world's total. China, which is hosting the G20 summit this year, is now the world's largest tourism market for both domestic and outbound travelers.
"To contribute more to tourism exchanges between G20 economies, we will also encourage second- and third-tier cities to launch international tourism cooperation ventures and forge more sister-city ties to promote tourism," Li said. "We will encourage Chinese companies to invest more overseas. In addition, we will also welcome foreign companies to invest in Chinese tourism industries and develop more classic travel routes along the Silk Road."
Li also called on other countries to provide "customized services" for Chinese travelers.
"In the coming five years, the number of outbound Chinese tourists will pass 500 million," Li said. "We hope other countries will consider Chinese tourists' needs and habits and offer more Chinese tour guides, more Chinese signage, more appropriate hotel facilities and Chinese television programs."