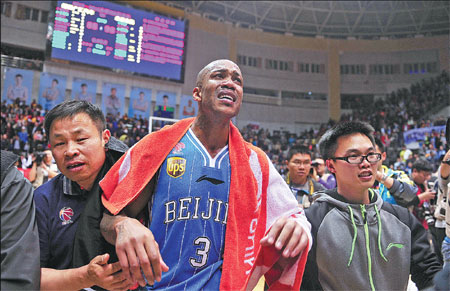 Stephon Marbury cries in front of cameras after beating the Xinjiang Flying Tigers 4-2 in the best-of-seven CBA Finals in March. Photos by Zhu Yi / For China Daily
American Basketball player Stephon Marbury is to star as himself in Chinese theatre.
The play, titled "I was Marbury" will cover his life during the 2011 to 2012 Beijing Ducks season, when Marbury led the team to its first championship over the Guangdong Tigers.
Director, Zhou Wenhong, said the main theme of the play will be "never give up."
It will incorporate choreographed basketball moves with dance.
Marbury, however describes the play's story in grander terms, saying the play focuses on "Sino-US relations."
The show will have a different guest star each night, including Yao Ming and former NBA journeyman Wang Zhizhi.
Stephon Marbury left the NBA to play in the Chinese Basketball Association in January 2009.
Tickets for the production of "I Was Marbury" went on sale this week, and will run for 11 nights from October 1st.