Stephon Marbury receives citizen status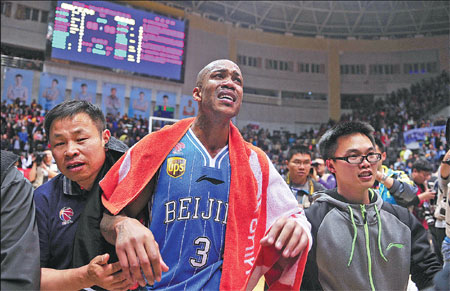 Stephon Marbury cries in front of cameras after beating the Xinjiang Flying Tigers 4-2 in the best-of-seven CBA Finals in March. Photos by Zhu Yi / For China Daily
His reputation and NBA career in tatters, the struggling basketball star rekindled his passion and found a new life in Beijing. Sun Xiaochen chats with the capital's latest honorary citizen.
In 1990s, the popular TV series A Beijing Native in New York - about Chinese immigrants' love and struggles in pursuit of their dreams in the United States - was a sensation in China.
Twenty years later, a New York native's true story in Beijing of overcoming injuries, doubts and cultural differences en route to realizing his dreams of winning a professional basketball championship twice has won the hearts of the Chinese capital.
After helping the Beijing Ducks to recapture the Chinese Basketball Association title in March, Stephon Marbury, the team's former NBA All-Star import, has been rejuvenated after his 13 often-tumultuous NBA seasons with success on and off the court, while fully embracing the Chinese culture with a humble demeanor.
Marbury, a Brooklyn native, was recently named by the Beijing government as its 30th honorary citizen after the CBA Finals, joining notable figures like former president of International Olympic Committee Jacques Rogge and Hong Kong tycoon Li Ka-shing. He also received a gold key to the city, presented by Beijing Mayor Wang Anshun, as a tribute from the local community.
"Thank you Beijing for the key to the city. I'm truly blessed and favored for your love and respect. I will always give nothing but my all on and off the court in Beijing. Beijing will always be home!" Marbury, who joined the Ducks in 2011, tweeted on his micro blog after the award ceremony.
The excitement of reclaiming the title - Marbury helped the team win its first in the franchise's 19-year history in 2012 - after failing to defend it last year thrilled the 37-year-old. He cried like a baby in front of cameras after beating the Xinjiang Flying Tigers 4-2 in the best-of-seven CBA Finals.
Related:Q&A with Stephon Marbury