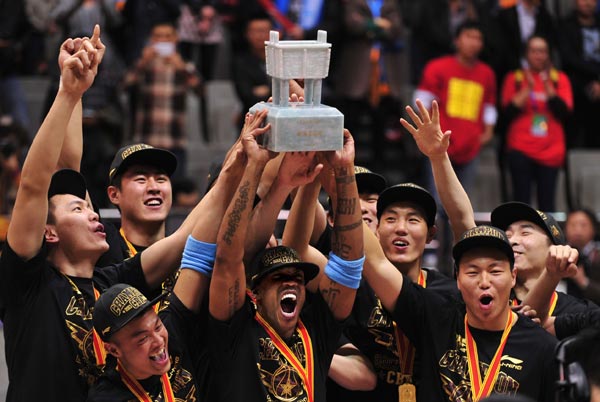 Marbury holds the CBA championship trophy with his teammates.
Since the victory, whenever he has made a public appearance at celebration parties, TV interviews or even a recent Beijing Guo'an game at the Worker's Stadium, Marbury always wears the champion's T-shirt with the gold medal hung around his neck.
"That emotion will never leave, it will always be there," Marbury says during an exclusive interview on Wednesday. "Those were happy tears because I overcame something difficult again.
"People tried to tarnish my career because of my being injured, because I wasn't able to perform at the level I was doing before. It feels like someone kicked you when you were down. Being able to overcome that is rewarding and gratifying."
Vowing to bring Beijing another title at the start of the 2013-2014 season, Marbury soon suffered a major setback after hurting his left knee in a November game. He had to return to the US for surgery.
Although he stayed in New York for three weeks after the operation in December, Marbury's heart never left Beijing.
He almost lived in two time zones simultaneously, waking up early to watch live webcasts of Beijing games before spending three hours in a rehabilitation center.
Text messages connected Marbury with teammates in Beijing, delivering instant support and tips when needed.
Related: Q&A with Stephon Marbury