Big shoes to fit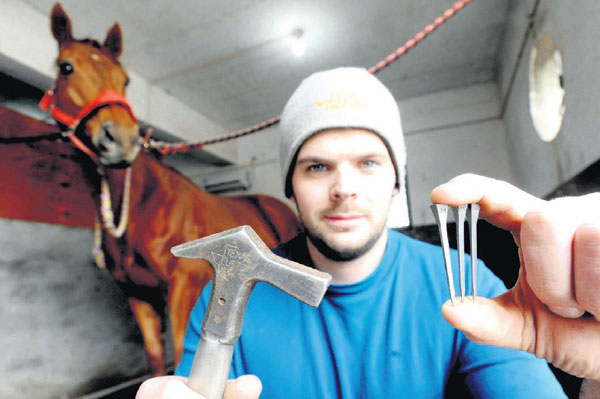 Irish farrier Arthur Judge displays his hammer and nails at the stable where he works in Chongqing. Photos by Yang Xinyu / For China Daily
My China Dream | Arthur Judge
A specialty blacksmith from Ireland has become many horses' best friend in China, making sure their feet are healthy enough for the country's growing equestrian clubs. Luo Wangshu and Tan Yingzi report in Chongqing.
Equestrian sports have always been considered elegant. It is a pleasure to watch a chestnut thoroughbred easily lifting its feet, walking freely, cantering, trotting, raising its forelegs and jumping over fixed obstacles.
When the audience applauds a brilliant performance by the rider and horse, they may forget to give credit to another important person - the farrier.
Arthur Judge is one of those workers behind the scenes. Instead of being a rider, the 27-year-old Irishman puts on an apron and shoes horses.
"I can make horses more comfortable by giving them appropriate shoes," he says.
Judge takes care of about 60 horses at the Phoenix Club in Chongqing, an exclusive equestrian club in this southwest municipality of China. He spends about 15 days a month in Chongqing and on other days, he flies around the country to care for horses in other cities, including Chengdu, Beijing and Guangzhou.
Judge has two work spaces in a stable in Chongqing. One is filled with his tools, including a toolbox stand, a blacksmith's work stand, a forge, a gas tank and a working table. The other stall, across the aisle, is empty. The latter one is for Judge's client, horses.
Judge does not mind being confined in a room that's no more than 8 square meters.
For more My China Dream,
here