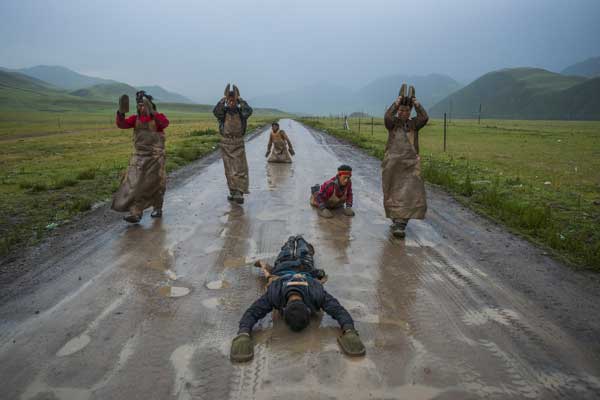 Devout pilgrims proceed at a snail's pace performing the chak tsal, the Tibetan name for ritual prostration. Their journey from Qinghai will take six months, along the northern branch of the Tea-Horse Road to the sacred city of Lhasa. Photos by Michael Yamashita / Provided to China Daily
Michael Yamashita is among the remaining photo journalists from the era when photographers commanded big budgets for ambitious projects.
"As a magazine editor, I admire Yamashita a lot because he has continued doing big stories over the past 30 years, devoting much time and effort to preparations and field-trips," says Lee Yung Shih, editor-in-chief of National Geographic's Chinese copyright partner.
"National Geographic editors are demanding. Once a photographer fails to give a satisfying performance on a big assignment, it is very likely he or she won't have an other chance to do big stories. Yamashita's ability is really outstanding. That's why he has won so many opportunities."
The photojournalist revealed how he has remained a successful National Geographic photographer at his public lecture at the Fangsuo Commune in Guangzhou in November.
First, he says, is to make sure that you know the topic well and to find your own angle - one different from anyone else's - to tell the story.
Yamashita say she studies virtually every picture that has been taken of the subject, which is easy to do in the Internet age, to become familiar with the area and avoid similar angles.
"I don't want to repeat what I've seen on the Internet. My job is to hopefully see differently, to surprise people with pictures they haven't seen before," he says.
Fu Qing, Yamashita's assistant in China, is impressed by the photographer's hunger for knowledge.
"His interest lies in history and culture - the Beijing-Hangzhou Grand Canal, the Great Wall, the Tea-Horse Road, Marco Polo's journey, etc," Fu says.