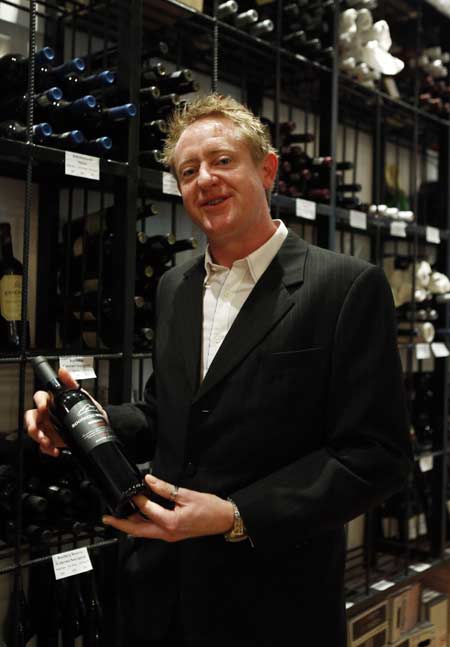 Andrew White promotes South Africa wine, and the South African brand as a whole, in China. Liu Zhe/China Daily
It's an enviable situation for a restaurant to be in when opinion is divided as to whether it is the cuisine or the wine that is the main draw. Andrew White, the sommelier at Pinotage, says it is a combination of "good wine, good meals, good company and good environment" that have popularized the South African restaurant over its six years in Beijing.
White, who took charge of the wine side of things this year, has no doubt about his role on Beijing's wine circuit. "I am here to promote South African wine and along with it the South African brand as a whole," he says.
In doing so, he has devised a strategy where wine tasting is done at Pinotage's two restaurants - in the busy expat district of Sanlitun and on the outskirts of the city in Shunyi - deliveries are made to homes, and events are organized.
"We have old vintage red wines that come in ready for enjoying, as opposed to wines from other parts of the world that one has to wait for to mature," he says.
Pinotage has a supply line from more than 350 South African wineries and sells wine from 40 yuan ($6.60) to 1,200 yuan a bottle.
"I learned about wine and food early on as a child growing up in Cape Town," says the widely traveled White. "I come from a diverse background with my dad being of Scottish background and my mom of Dutch heritage."
After finishing his hotel management course in Cape Town, he trained in the same discipline in London in the late 1990s. After graduating, he traveled back to South Africa briefly, backpacked in Ecuador, and accompanied his father on trips to Brazil and Bolivia.