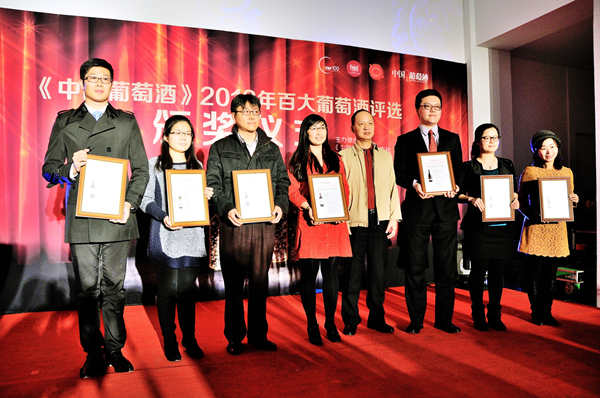 [Photo provided to China Daily]
The magazine Wine in China recently released results of its 2013 Top 100 Wines Awards. This year's judging panel included wine experts from across the world, including Alun Griffiths and Rob Geddes, both Masters of Wine.
Griffiths said the awards will be very helpful to Chinese consumers seeking advice on what to buy. Geddes said he discovered, through the event, some good quality imported wines in China, many of which are easy to drink and medium-bodied, with sophisticated fruit flavors.
he awards also include an annual report to reflect developments and trends in the wine market. The report shows a continued increase in China's wine imports, although the growth is slowing, and a drop in the average price of imported wines. The number of people working in the wine industry has also increased, and the expectations of wine enthusiasts are getting higher.
The wines include varieties from at least 21 countries. Eight Chinese wines made it on to the top 100 list, including a syrah from Hebei's Huailai, and a merlot from Ningxia's Helan Mountain. The judges say they saw an obvious lift in the quality of the Chinese wines in the final.
Apart from traditional wine-producing countries, some of the wines awarded come from Romania, Israel, Montenegro, Hungary and Ukraine. Besides the awards for each wine variety, a Ukraine sherry won an award for the "Star of the new-rising wine producing country". A Benhaim Cabernet Franc Reserve from Israel led the "Top 100 from the Middle East" section.
This was the fourth year the awards have been held. The judging panel also selected 50 best-value wines from 300 candidates, hoping to give Chinese consumers a shopping guide.