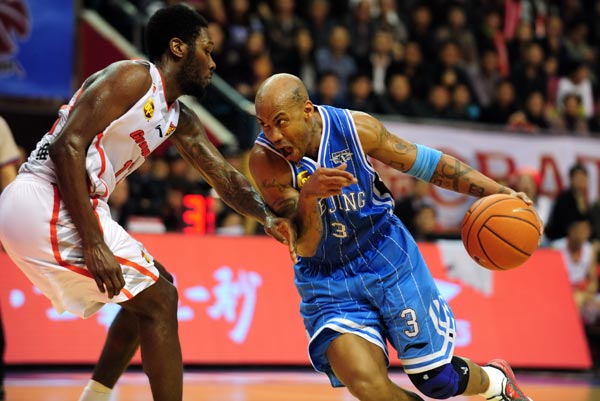 Marbury participates in a game of bastketball.
"We are just brothers. It's easy for me and I love the camaraderie between us because we share something deeper than basketball," says Marbury, who maintains close ties with teammates by eating and hanging out with them on road trips.
Marbury returned to competition after the Spring Festival, but his under-par performance during the tune-up period fueled doubts about his age and the three-year contract extension that Beijing offered him last summer.
"It's understandable for people to doubt him as he needs time to regain his rhythm and work things out on court," says Min Lulei, the Ducks' head coach.
"But I never doubted him even for one second, as I believe he would come back strong once he is 100 percent (healthy)."
Marbury didn't disappoint his coach and the crowds of about 18,000 packing the MasterCard Center, the Ducks' home court, at every home game. He steered Beijing over the Zhejiang Lions, the defending champion Guangdong Southern Tigers and Xinjiang in the playoffs.
The pictures of him receiving fluid-pump treatments with needles stabbed deep in his left knee during the playoffs earned him respect from more than 3 million diehard followers on his micro blog account - more fans than active NBA superstar Kobe Bryant has on his Sina Weibo, China's answer to Twitter.
Fans have also conferred upon him the title "Ma Zhengwei (commissar)", because of the way he motivates his team and inspires younger players. They voted to erect a bronze statue of him lifting the CBA trophy outside the MasterCard Center.
Marbury's insistence on shunning many privileges demanded by other foreign players off the court and willingness to root himself in the local culture also won him acceptance by Chinese.
People sometimes spot Marbury, who calls himself the "Black Mandarin", in the crowded Beijing subway during his commute from downtown to the suburban practice court. He can also be found at cross-talk shows at local tea houses or in Chinese restaurants, using chopsticks comfortably.
He even borrowed primary school textbooks to learn Chinese, tattooed "Ma Bu Li", his name in Chinese, on his left forearm and made his older daughter Stephanie Marbury a transliterated Chinese name, "Ma Si Ni".
"After experiencing ups and downs in the NBA, Marbury regained peace and love in China, where people are prone to forgiving his past transgressions. So he just reinvented himself," says Yang Chen, Marbury's personal assistant and close friend in China.
It is, indeed, a sharply different narrative than the track Marbury found himself on five years ago.
Related:Q&A with Stephon Marbury