Hoops star controls his own look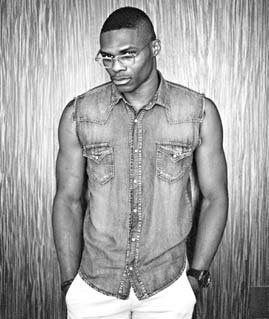 Russell Westbrook, a professional basketball player with style. Danny Ghitis for The New York Times
It was hard to miss Russell Westbrook during New York Fashion Week this month, and not just because the National Basketball Association basketball player is 1.9 meters tall and weighs around 84 kilograms.
There he was, in the front row at the Rag & Bone show - in a blue-print, long-sleeve shirt, olive trousers cuffed into capris and a felt bowler hat - as paparazzi swarmed around him and his seatmate, Anna Wintour, the editor of Vogue magazine.
The Oklahoma City Thunder point guard was again there at Altuzarra, dressed in a print T-shirt and overalls.
"The shows, as an experience, have been amazing," Mr. Westbrook, 24, said. Stepping out of the usual basketball scene and meeting designers "was refreshing."
Mr. Westbrook's presence as a front-row regular may have caught some of the other Fashion Week attendees by surprise, but the player believes he belongs among their ranks. When he arrived in the N.B.A., in 2008, Mr. Westbrook said that, clothing-wise, "nobody was doing anything that would attract the fashion crowd."
Though many other players employ stylists, he said he chooses pieces on his own because he likes control.
It was in the 2012 playoffs, when Mr. Westbrook chose a dizzying succession of unconventional prints, that he appeared on the fashion radar. To wit: a Lacoste polo printed with fishing lures; a Joyrich paint-splattered short-sleeve shirt; a Comme des Garcons shirt, leopard-and-dotted button-down; and a Shirts For All My Friends red geometric print top. Often the looks were punctuated by a pair of red "nerd" frames, which he wears lensless.
The new look paid off: in January, GQ magazine showcased Mr. Westbrook in a multipage spread wearing printed shirts, while Flaunt, a Los Angeles-based fashion magazine, put him on the cover, the first athlete to appear there. The next month, Levi's featured him in an ad campaign. And in March, L'Uomo Vogue ran an interview with Mr. Westbrook.
"Russell is part of a newer generation, players that take fashion as a real badge of cool," said Jim Moore, creative director for GQ. "For years and years, you had that Pat Riley and Michael Jordan idea of off-court style; they were all going to the same tailors and they were almost getting too fancy with it."
Mr. Westbrook stands out for his daring color and original print selections, said Matthew Bedard, editorial director for Flaunt. "He's not taking direction from someone else," he said.
Jill Demling, entertainment editor of Vogue, pronounced Mr. Westbrook the "Kate Moss of the N.B.A."
Richard Chai, the designer, said Mr. Westbrook's style is refreshing. "Especially in sports, you're supposed to be very 'manly' or look a certain way, but I love that he wears prints, even animal prints," Mr. Chai said.
Mr. Westbrook didn't come from wealth, and his first impression of fashion was that of an outsider. "It was basically what I could afford," he said.
He said that one day he would like to have a fashion line of his own.
"The things you see on the runway are the best pieces, and the items I happen to like," he said. "And they're controversial pieces that people talk about. Somebody is not going to like it."
"But it's good," he added. "It's good in that it's going to put me out there."
The New York Times
Related:
Emporio Armani Spring/Summer 2014 collection
Chain mail and silky skirts contrast at Milan fashion week
Trendy International Group, 10 Corso Como make a perfect fit