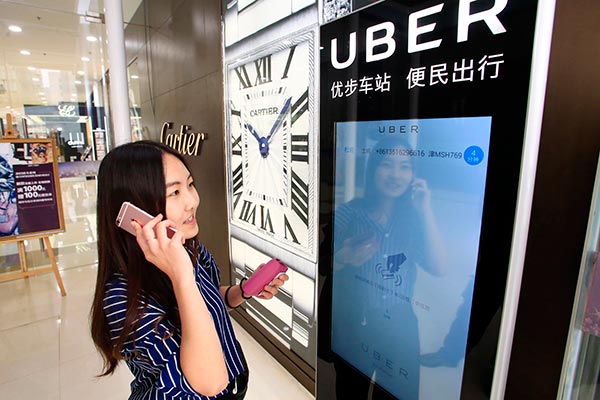 A woman uses Uber Technologies Inc's car-hailing service via an electronic screen in Tianjin.[Provided to China Daily]
Offbeat initiative comes amid fierce competition in Beijing with ride hailing rival Didi Chuxing
Be it car stations with artsy sculptures or an in-app lifestyle magazine, Uber Technologies Inc is going all the way out to woo Chinese customers over, amid the fierce ride hailing competition in the country.
The US car-on-demand service provider on Friday launched Uber ArtSTATION in Beijing involving an initial batch of car stations. The initiative is said by the company to be the first of its kind in the world and aims to use creative ideas to connect its Chinese clients with some of the most beautiful things - art, fashion and design.
The total of eight car stations, each with a sculpture made by some of China's promising modern designers, are located at some of the most visited downtown areas in Beijing. And these are only a part of the wider effort Uber has made in China to provide value-added services.
"It is true that users pay a lot of attention to prices, but we've witnessed an increasing number of diverse demands that are seeking high-quality experience," said Zhang Yanqi, Uber's regional manager for North & West China.
Uber's new move comes soon after its biggest competitor in China - Didi Chuxing - announced in mid-May its latest financing of $1 billion, coming from US tech leader Apple Inc. The investment is expected to help Didi Chuxing consolidate its dominant position in China.
Wang Xiaofeng, an analyst at consultancy Forrester Inc, said the era of cash-burning competition in China's car-on-demand sector has come to an end.
"There will still be some cash subsidies offered by firms to secure users, but I think they have already started to look inside themselves, and asked how they are going to improve user experience and the quality of service rather than focusing on subsidies," she said.
According to Uber, which entered China about two years ago, it has also teamed up with an art gallery so that Beijing users can soon enjoy some artsy exhibitions inside the cars during their rides.
Moreover, the San Francisco-based start-up will also bring an in-app service called UberLIFE to Beijing in early June.
The service, which has already launched in several other cities in China, is another innovation in China market.
"We've found that many of the users in China would spend another 90 seconds in our app after they start their rides. So we think why not offer some local lifestyle guidance, such as the most popular local restaurants and the most interesting shows," said Zhang.