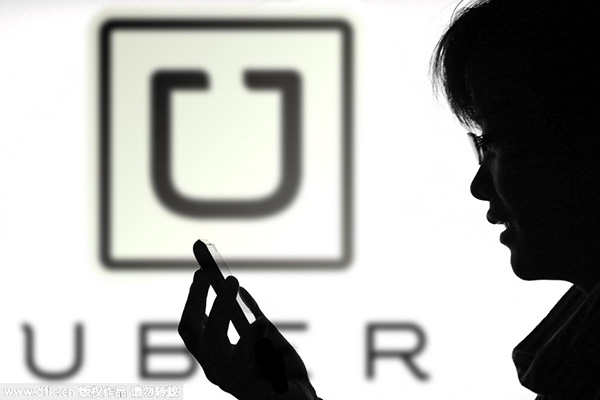 A pedestrian looks at his smartphone in front of an advertisement for taxi-hailing app Uber in Jinan city, east China's Shandong province, in this Dec 15, 2014 file photo. [Photo/IC]
An Uber senior executive said the ride-sharing company is developing driverless technology because the future of driving will be robotic.
"Uber has to usher in (the technology) if we want to be part of that world," said Jeff Holden, Uber's chief product officer.
Holden said in a press conference in Beijing on Wednesday that Uber has "a very large team" working on driverless technology. He didn't give a timetable for when they will launch it but he said the technology is "very, very close".
China's Internet web services company Baidu, which is a strategic investor in Uber, recently completed a road test for its autonomous driving car in the Silicon Valley in the United States.
Beijing-based Baidu announced earlier that its self-driving car is expected to go into massive production in another three to five years.
Holden said Uber and Baidu haven't carried out collaboration on self-driving technology. But he said "the possibility of collaboration is interesting".
"It makes sense for us to cooperate and bring out some synergy on developing the technology," he said.