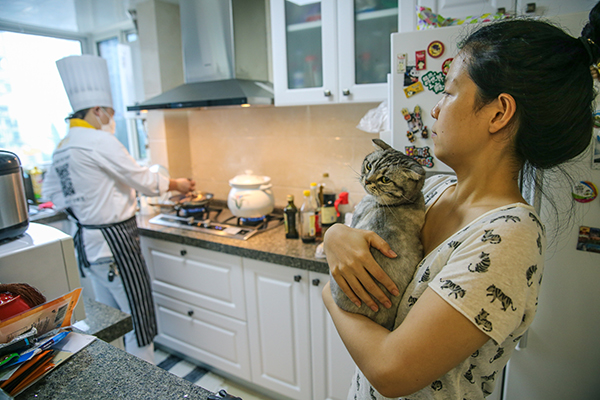 A Shanghai resident surnamed Zhang holds her cat while watching a professional chef cook for her at home. [Photo/Xinhua]
With developments in mobile applications, a stranger's car can be hailed in an instant. An apartment owned by someone you've never met can be rented within the hour. But while these two have always seemed ideal for sharing, no one, until recently, thought the kitchen could be for anyone but the familiar.
Home-Cook, a two-year-old startup in Beijing, is rethinking that notion. It wants to make the kitchen communal and has created an online marketplace to match diners with hosts who are willing to share their home-cooked meals.
"We are targeting white-collar workers who are increasingly tired of standardized meals from fast-food chains and restaurants. They want home-cooked meals, which are generally healthier and more personalized, but who are often too busy or too tired to cook," said Tan Jing, co-founder and chief operating officer of Home-Cook.