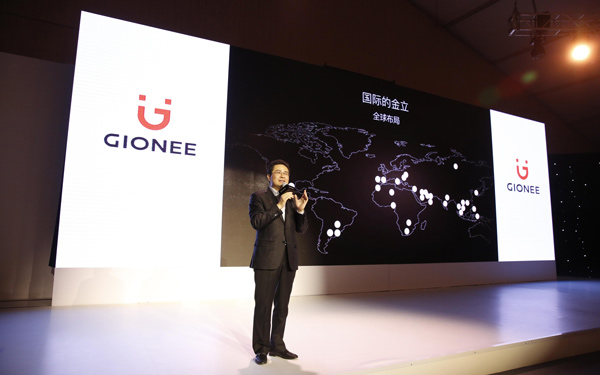 Liu Lirong, chairman and president of Shenzhen-based Gionee Communication Equipment Co Ltd, delivers keynote speech at the company's product launch ceremony held on March 29, 2016 in Beijing. [Photo provided to chinadaily.com.cn]
Domestic handset manufacturer Gionee unveiled its new reasonably priced high-end configuration flip phone to rival global competitors in the emerging market.
Liu Lirong, chairman and president of Shenzhen-based Gionee Communication Equipment Co Ltd was at the product launch ceremony in Beijing on Tuesday, he said, "Gionee W909 will be the existing world's best performance clamshell smartphone sold on the market."
He claimed that the company's sales volume of the clamshell phone series will reach more than 2 billion yuan this year.
Priced at 3,999 yuan ($616), the new phone, which is described by local media as Samsung's W2016 competitor, is equipped with the MediaTek Helio P10 chipset and an octa-core processor. It presents dual 4.2 inch IPS LCD displays, 4GB of RAM and built-in 64GB storage, plus a microSD slot.
In comparison with Samsung's domestic flip phone, Liu said, "we've surpassed its market share in a lot of regions." He provided a specific example to the press, saying the W900 and W900S, which are the previous generation of the new debut phone, sold 10,000 units within one month in Heilongjiang province.
Samsung's latest pricey clamshell smartphone, the W2016, launched in China priced at more than 25,000 yuan early last year. The sales volume of the phone is not accessible at the moment.
The phone has two 3.9-inch Super AMOLED displays, under the hood there is a 64-bit octa-core Exynos 7420 processor with 3GB RAM and 64GB of internal storage.
Another new phone named S8, features a 5.5-inch 1080p AMOLED panel and fueled by the Helio P10 processor were also unveiled at the event.
The Gionee S8, whose display supports "3D Touch" or "Force Touch" was debut at this year's Mobile World Congress (MWC) held in February in Barcelona.
A candy bar phone is a handset that is normally seen sold on the market. It has become a mainstream appearance for designing the smartphone.
"While there are a certain number of customers who still fancy clamshell phones, the phone is considered to be one of the best options for business occasions," said Liu.
During the product launch event, five existing users who were chosen by the company as early adaptors of the new phone shared their experiences. A lady said each flip gives her a hint that her business is under control. It sounds familiar with the sound of the iPhone lock screen that brings satisfaction to a certain number of its users.
Gionee was founded on September 2002 in Shenzhen, Guangdong province.
In 2006, the first phase of Gionee's R&D project had a total investment of more than 1 billion yuan, covering an area of 2 square kilometers at the Gionee Industrial Park in Shenzhen.
The production capacity currently stands at 40 million units per year. Once the entire industrial park is completed and put into production, production capacity will reach 80 million units per year, making Gionee Industrial Park the largest mobile phone production site in China.
Currently the company has 41 provincial general sales agents and 40 provincial service centers with over 500 franchised outlets.
Aims big in overseas market
Recently at the MWC, Gionee rebranded itself and unveiled their new logo and new slogan called "make smiles", which is believed as a new push for the company to focus more on user experience in a global perspective.