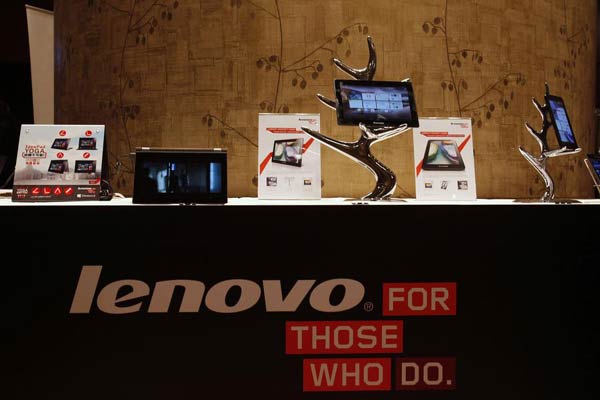 Lenovo tablets and mobile phones are displayed during a news conference on the company's annual results in Hong Kong in this May 23, 2013 [Photo/Agencies]
Lenovo Group Ltd said on Tuesday it was establishing a smartphone assembly unit in India, becoming the biggest Chinese company so far to respond to Prime Minister Narendra Modi's campaign to turn the country into a manufacturing powerhouse.
Partnering with contract manufacturer Flex, previously known as Flextronics, Lenovo said in a statement it is working on a new assembly line in the southern Indian city of Chennai. Using imported parts, it will have an annual production capacity of 6 million smartphones and employ 1,500 people. Production of its MotoE range of smartphones has already begun, it added.
Keen to grab a larger slice of the world's third-largest smartphone market as well as counter accelerating wage inflation at home, China's phone manufacturers have been quick to seize opportunities made possible by Modi's "Make in India" campaign.
China's Xiaomi this month said it was joining forces with Taiwan-based tech giant Foxconn to start assembling phones in India.
Foxconn, the trade name for Hon Hai Precision Industry Co Ltd, has also announced it will invest $5 billion in Maharashtra. It has not said what it will be making but a local minister told Reuters that it has been in talks to manufacture Apple iPhones.
India is the world's fastest growing smartphone market, but so far a lack of good suppliers and infrastructure have hampered efforts to manufacture phones in the country, forcing most of its more than 100 different phone companies to import from Chinese mainland and Taiwan.
India is a relatively bright spot for Lenovo, the world's biggest maker of PCs, which has struggled with its $2.9 billion acquisition of Google Inc's Motorola handset division. Losses at the division were a key factor behind a halving of Lenovo's net profit in the latest quarter.
In India, however, Lenovo is the only China-based company to rank among with top five smartphone vendors, capturing 6 percent of the market with its Lenovo and Motorola brands, according to figures from IDC.
Smartphone shipments to India jumped 44 percent to 26.5 million units in the second quarter this year from the same period a year earlier, IDC said.