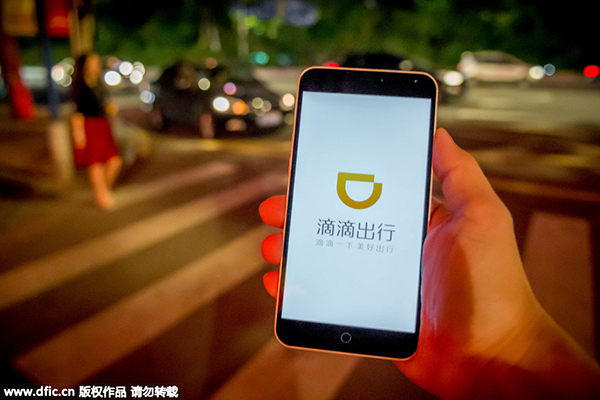 Didi Chuxing, a car-booking mobile app owned by Didi Kuaidi, is shown on a mobile phone, Sept 17, 2015. [Photo/IC]
Car-hailing platforms Didi and Uber promise to take care of the fine drivers face when caught offering ride in their private cars, reported cnr.cn.
The move is in response to Shanghai police's decision to increase inspection of car-hailing services, and impose up to 50,000 yuan in fine and six-month suspension of driving license, said the news site.
Despite increasing popularity, most ride-sharing companies still lack legitimacy in China, as the regulations do not allow private cars to be used for paid rides.
Besides administrative penalty, drivers who get caught will see negative impact on their credit rating, Chen Chaohui, deputy director of the Law Enforcement Department of Shanghai Municipal Transportation Commission, told the cnr.cn.
The city will also intensify inspection on ride-sharing platforms to punish their matching riders with vehicles that have no operation qualification, said Chen, adding that the fine ranges from 30,000 to 100,000 yuan.
In response, Didi texted drivers last week, saying the company will compensate the fine in full, according to the website, while Uber told its private-car drivers that their driving license would be returned once the fine is paid.
Yidao, another ride-hailing platform, said the company offers subsidy to all drivers across the country whose working hours are lost due to inspections.
The tightened check came as the Ministry of Transport unveiled a draft regulation seeking to ban private cars from offering ride services in October. Under the rules, which are due to take effect later this year, car-booking platforms must also obtain permits from local authorities.
Gao Yuan contributed to this story.