Eating at a Chinese state banquet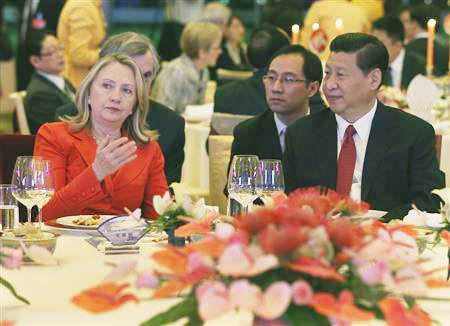 President Xi Jinping sits with former U.S. Secretary of State Hillary Clinton during a state banquet. [File photo]
A state banquet is a dinner hosted by the government to welcome guests from other countries. The largest state banquets in China are held at the Great Hall of the People which can hold at least 5,000 people. The dishes at the banquets usually represent famous Chinese cooking styles from all over the country.
To make the dishes suitable for guests from different countries, several generations of chefs have been improving their cooking skills over the years. There are said to be some very harsh hygienic requirements at China's state banquets, for example, a chef must follow six procedures to wash his hands to make sure they are thoroughly clean.
There are also certain courtesy rules to follow at a state banquet in China.
1. If the translators from China are present, they should sit behind the guests and they won't join the dinner.
2. The host usually welcomes the guests in another room first and walks them into the dinning hall.
3. In order to avoid unnecessary misunderstandings, the tables are often marked by the names of different kinds of flowers instead of numbers.
4. The dishes should be prepared in a way that can elegantly show Chinese cooking culture. Meanwhile, the guests'cultures and religions are taken into consideration.
Related: Top chef details State banquet menu