Mo Yan promotes Chinese literature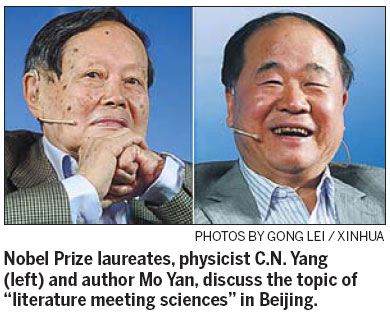 After keeping a low profile since he was crowned Nobel laureate in literature in December, Mo Yan is ready to face the media.
Last week, Mo Yan rejoined public events as chair of the International Writing Center under Beijing Normal University, and joined artist Fan Zeng for a conversation with physicist C.N. Yang on "literature meeting sciences", where he spoke in front of hundreds of people at Peking University.
Related: Renowned artist dismisses concern about value of his work
Fan Zeng, the 75-year-old ink painter and calligrapher, says he doesn't care about the price of his works or his ranking. More...
"Let the trial on me begin," Mo Yan joked during an interview at BNU, where he obtained a master's degree in 1991.
"I hope the center will become a place where established writers from all over the world will feel free to write or do research, or communicate with fellow writers, critics and students," the author says.
"Or, it's also OK for them to do nothing, but just walk around the campus."
Mo Yan has been overwhelmed by media attention after receiving his Nobel prize. During this year's "two sessions" (National People's Congress and Chinese People's Political Consultative Conference) in March, Mo Yan, as a first-time CPPCC national committee member, was unwilling to speak to the media.
But he seemed a lot more lighthearted when he appeared at his alma mater on May 13 to assume the post of chairing the newly established BNU International Writing Center.
Related: Mo Yan heads alma mater's writing center
BNU is among the first Chinese universities to start an international writing center. A number of Chinese writers have been guests to centers of the same kind at foreign universities, such as the University of Iowa in the United States.
Zhang Qinghua, managing chair of the writing center, says it aims to be the nexus for international writers' exchanges in the country, while being home to Sinologists and foreign translators of Chinese literature and the cradle for younger generation of writers.
Related: