Haven of Literature
The Orchid Pavilion is famous for A Preface to the Orchid Pavilion Poems, written by Wang Xizhi. Today, it remains a popular venue for festivals celebrating the art of fine calligraphy.
Related: Written images blur the lines
Back in the Eastern Jin Dynasty (AD 317-420), court minister and calligrapher Wang Xizhi (AD 303-361) invited 41 friends for an outing at the Orchid Pavilion in Shaoxing, Zhejiang province.
Sitting by a flowing stream was a little cup filled with liquor. Whenever it passed in front of someone, that person was obliged to improvise a poem, or drink the liquor if he failed to come up with one. At the end of the day, 37 poems were composed by 25 scholars.
Wang, as the initiator of this merry activity, picked up a brush and composed Lanting Xu, or A Preface to the Orchid Pavilion Poems. Considered the greatest masterpiece of Chinese calligraphy, the work crowned not only Wang as "the Sage of Calligraphy" but also the place as the "Calligraphy Mecca".
Today, the garden - covered with luxuriant trees, crystal-clear streams and dense bamboo groves - is a popular tourist attraction. Among the highlights are Qushui Liushang Pavilion, Goose Pond Pavilion, Youjun Ancestral Hall, Lanting Tablet and the Ink Pool.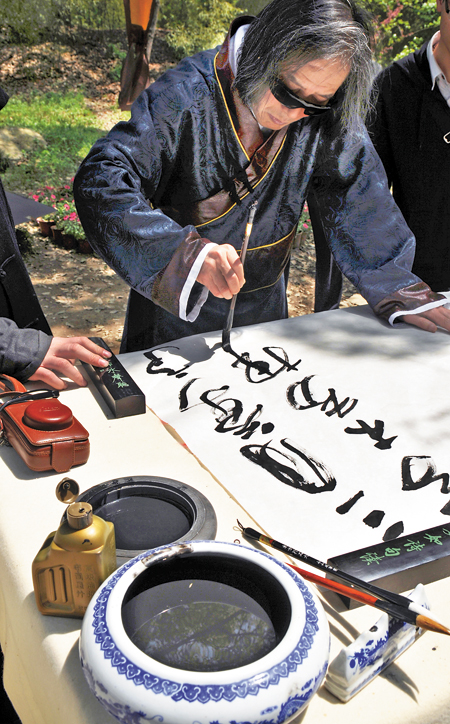 The Orchid Pavilion Garden attracts visitors with its beautiful landscape and graceful southern Chinese garden features. It is also full of history and culture and has a reputation as a calligraphy mecca. [Photo/China Daily]