Home / Culture / Film and TV
Welcoming back, Zixia Fairy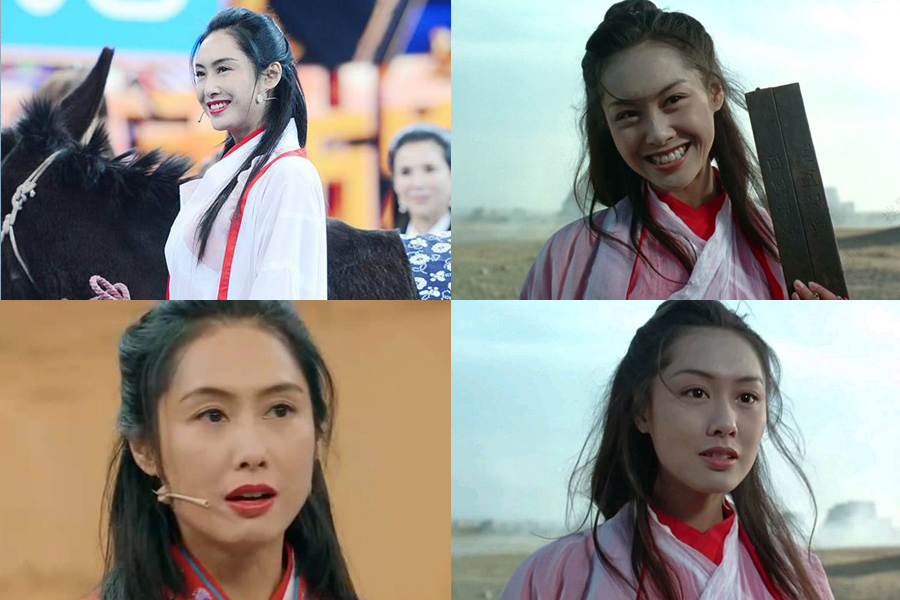 The photos on the left compare Zixia Fairy in the 2017 talent show to the character from the movie made in 1994. [Photo/Mtime]
After being absent for 23 years, Zixia Fairy, a classic role from Hong Kong movie A Chinese Odyssey Part Two: Cinderella, has returned to the spotlight on the talent show Trump Card.
Actress Athena Chu, who starred as Zixia Fairy in the original film, has dug out her old costume for the reality show. The reappearance of Zixia Fairy has delighted viewers of the show.
It is not an exaggeration to say A Chinese Odyssey Part Two: Cinderella marked a milestone in Chinese movie history. It ranks second highest with a score of 9.1 among Chinese films on Douban Movie, the Chinese version of IMDb.
Some viewers say it is just a simple comedy, while others believe that behind the funny dialogues are a sense of sarcasm.
In the film, Zixia Fairy is a memorable role for many movie-goers thanks to her simple yet brave characteristics.
She is a woman who dares to love. She enjoys a pure soul and decides to find her true love through the belief: "The man who has the power to take the magical sword from her hand will be her Mr Right."
She is a woman who dares to hate. She firmly denies the passionate love pursuit of King Bull. She would rather die than bend over to a man she has no feelings for.
She is a seemingly silly woman. After finding out her Mr Right Monkey King cheated of her feelings, she stills helps him overcome many difficulties. She may have flaws, but she is the best example of a love believer and loyalist.