Mo Yan heads alma mater's writing center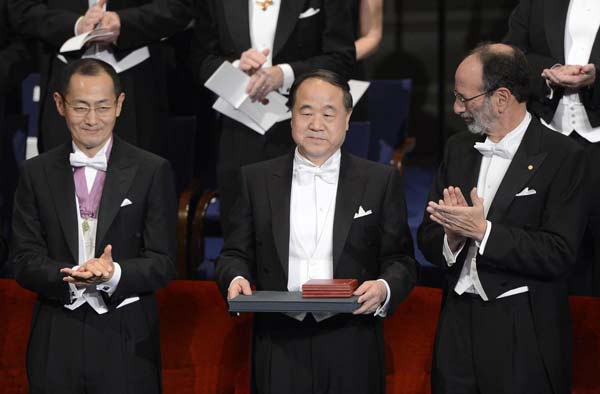 Winner of the 2012 Nobel Prize for Literature Mo Yan (L2) of China presents his prize during the Nobel Prize award ceremony at the Stockholm Concert Hall in Stockholm December 10, 2012.[Photo/Xinhua]
Nobel Prize winner Mo Yan said on Monday he would encourage college students to engage in creating literature on campus although training literature majors to be writers has been controversial in China.
Special: Mo Yan
Speaking after being appointed director of the International Writing Center of his alma mater, Beijing Normal University, the winner of the Nobel Prize in Literature 2012 said, "Writing and finishing schooling are reconcilable and even complementary to each other, as practicing writing literature will help students gain better understanding of both contemporary and classical literary works.
"Such efforts will also help literature majors to grasp the essence of others' works. I would encourage undergraduates to pick up their pens and try their hands at writing."
Mo recalled that it had long been disputed whether undergraduates should receive training on creating literature.
"Times are changing. It is no longer that difficult to try writing on campus. Many of those who tried actually got good grades too. So we should encourage more literature majors to give it a try," he said.
Born into a farmer's family in east China's Shandong Province in 1955, Mo, originally named Guan Moye, only attended primary school and dropped out at age 11 to herd cattle, his adventure into literature only starting with his childhood habit of reading.
Nevertheless, he became a published author in 1981 and is the first Chinese national to win the Nobel literature award.
The author was granted a master's degree in literature and arts in 1991 after studying for a postgraduate program at Beijing Normal University.
At the International Writing Center's opening ceremony, Mo said he hoped to develop the facility into "a place for writing, a research institute and an platform for international academic exchanges."
World-famous writers, poets, translators, sinologists and scholars will be invited as guest writers to engage in writing, research and academic exchanges at this university established a century ago.
The center will aim to be a literature education base and an incubator for Chinese writers. Postgraduates and doctoral students will be enrolled to study literature creation, according to Mo.
Related:
Author's hometown draws tourists