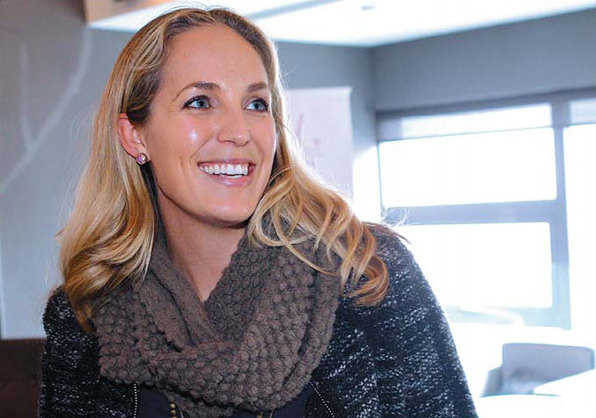 Expat writer Kaitlin Solimine recounts her China experiences at the book launch of Unsavory Elements, part of the Capital Literary Festival Beijing. Photos by Zou Hong / China Daily
A group of foreigners gathered over the weekend to speak about their new anthology. Jules Quartly finds out why they think China is the new land of opportunity.
Tian'anmen was still buzzing with politicians and tourists on Sunday morning as the two sessions wrapped up under China's new leadership and trumpets sounded for the "Chinese dream".
Nearby, at the glossy Capital M restaurant overlooking the iconic square, some unsavory foreign elements had gathered.
The writers, editors and publishers of a new anthology provided an alternative spin on the achievements of the Party and the development of the country on the day the annual political congress concluded.
Meeting for what was dubbed an "expat-tacular" panel discussion, part of the Capital Literary Festival Beijing, five authors introduced their contributions to the anthology Unsavory Elements, which presents 28 expat writers, some well known others less so, recounting their China experiences.
The book's publisher, China polymath and forum moderator Graham Earnshaw introduced the writers by saying expats are oft referred to as "laowai" ("old outsiders"), which neatly sums up their position at the periphery of Chinese life, even though the floating population has become an increasingly significant segment of the general population.
Related:
An expert on the same differences
The first time we met, Guillermo Pulido was bundled up in a thick duffel jacket, his face almost totally covered by a fluffy hat and a cashmere scarf. More...