Foreigners celebrate festival Chinese style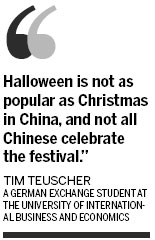 As their friends back home prepared to celebrate Halloween, many expatriates in Beijing marked the Western festival with a Chinese twist.
Instead of dressing up as pirates, princesses, ghosts or popular heroes, some foreigners modeled their costumes after characters in Chinese history.
Related: Body paint and all the trimmings for Halloween
Gabriella Kurz, a 26-year-old Canadian English tutor in Beijing, dressed up as a Chinese emperor.
"The idea comes from a Chinese girl I've tutored. We talked about Chinese history during class, so the idea of dressing up as a Chinese emperor came to mind," she said.
Some foreigners skipped the costume parties and went to clubs to celebrate the festival. "Halloween is not as popular as Christmas in China, and not all Chinese celebrate the festival," said Tim Teuscher, a 22-year-old German exchange student majoring in business administration at the University of International Business and Economics.
He said he would likely go to a club with friends instead of dressing up. Teuscher arrived in China in August and experienced Mid-Autumn Festival. As a foreigner, Teuscher said he prefers to experience traditional Chinese festivals rather than Western ones.
Related: Halloween haunts China
If Halloween had fallen on a weekend instead of the middle of the week, Teuscher said he may have celebrated with friends.
Yesebua Alvarez, an exchange student at UIBE, said she planned to have a small costume party with 10 classmates.
Alvarez said she didn't want to make her costume too elaborate because she tought it might frighten Chinese people.
For 30-year-old Russel Grant, a British teacher at the Dulwich College Beijing, Halloween in China is more of a commercialized celebration, because many shopping malls and restaurants promote activities to mark the festival.
Guan Shijie, an expert on cross-cultural communication at Peking University, said Chinese society has not accepted Halloween as much as Christmas, which is celebrated by many more people worldwide.
Some people on Halloween dress up as ghosts, which some Chinese have a negative association with, Guan said.
Although not every foreigner in China will celebrate Halloween, enthusiasm for the festival benefits Chinese businesses.
A manager of a 7-Eleven told China Daily that the convenience store was nearly sold out of Halloween products. "We've prepared for Halloween for almost a month. The sales haven't been bad so far," he said, adding that most the sales were to foreigners.
zhouwa@chinadaily.com.cn