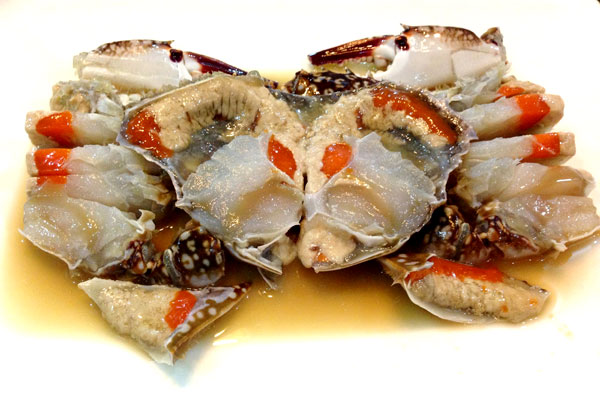 Now is the right season to enjoy drunken crabs at Qiantang Garden Hangzhou Cuisine in Beijing. [Photo by Pauline D. Loh / China Daily]
Beijing is huge, and sometimes you can find delightful meals in the most unexpected places. Pauline D. Loh explores Haidian district and finds some choice southern offerings.
It was after a family wedding and the gathered clan had spent an exhilarating afternoon catching up on family gossip and helping our sister-in-law harvest her grapes. When it came time for dinner, we decided to eat local, quite literally. Haidian district is one of the fastest developing in Beijing, with a gathering of young technology start-ups, and the universities from which their bosses had come from. It has excellent malls selling all kinds of geek gadgets, and still enough room left over for tree-lined avenues full of 20-year-old residential estates.
With such a thriving demographic mix, it stands to reason that the dining options are just as lively.
The district is already known for its cafes and little coffee shops attracting a young clientele with free Wi-Fi and other 4G conveniences, but there are also excellent family-style restaurants here.
Qiantang Garden serves Hangzhou food, but spreads its culinary style a little wider to cater for those homesick for Jiangsu-Zhejiang dishes. The owner is one of Beijing's largest suppliers of fish, prawns and crabs from these southern shores, and migrated here from Ningbo in Zhejiang province years ago. It was just natural for him to open a restaurant next.
The first thing you do when you enter is not to sit down and reach for the menu.
The truly experienced make their way down a corridor that opens up into a seafood display area complete with a wall of aquariums. Here, the best catch of the day is laid out neatly on the table, with labels to guide novices.
Our brother-in-law, a native Shanghainese, needs little prompting and fires off a volley of rapid-fire orders. We trot back to our dining room and sit down with anticipation.
First to arrive are the usual cold dishes of tossed toon shoots with the seasonal fresh walnuts, whole bamboo tips slightly pickled in salty-sweet brine, soy-braised duck tongues and the drunken snails or huangni luo.
Drunken prawns, drunken crabs and drunken snails are actually treated with yellow wine spiked with baijiu, or white spirits. The milder liqueur adds flavor while the stronger spirit neutralizes any stray bugs or germs that may lurk in the raw ingredients.
The drunken crabs here are very well done, and the season's best are all bursting with golden red roe. The translucent white flesh is juicy and gelatinous and sweet with wine and its natural flavors. At our table, even those who normally shy away from sashimi were reaching out for the crabs.