Expats skip travel for fun in the capital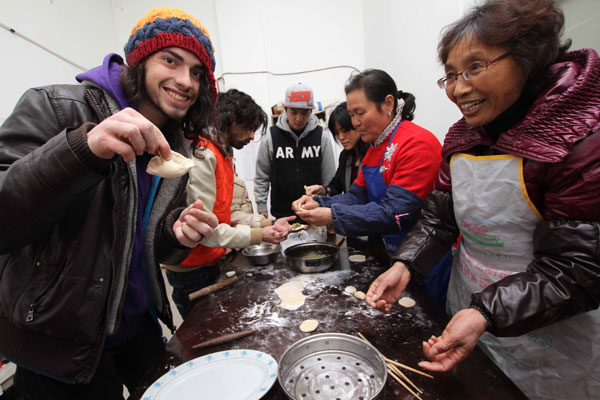 Two young musicians from the United States learn to make dumplings from residents of a community in Nantong, Jiangsu province, on Jan 26. To celebrate Spring Festival, they will also stage a show in a bar in the city, incorporating their experience of local customs into the music. [Huang Zhe/ Xinhua]
Some welcome opportunity to beat heavy crowds, relax among friends
While millions of travelers squeeze their way into buses, trains and planes this Lunar New Year holiday, Tobal Loyola will be busy playing video games at a friend's home.
The 30-year-old Filipino resident of Beijing initially wanted to travel to Los Angeles or Montreal, but he was also happy to stay home when he couldn't get the flights he wanted.
"I think it was a blessing in disguise that I didn't end up flying this season," he said in an e-mail from Seattle. "I get to relax really well and not think about packing and flying."
Loyola, you see, works as cabin crew for Hainan Airlines and spends up to two-thirds of his time on a plane or in a foreign city.
At a time when China sees its largest internal migration annually - a record 3.41 billion trips are projected around this Lunar New Year - Loyola welcomes the opportunity to stay away from the crowds and set a record of his own.
From Thursday to Sunday, he expects to spend half his waking hours on a Nintendo Wii video game console, battling about a dozen foreign and Chinese friends on Mario Sports Mix, The Legend of Zelda and Super Smash Bros Brawl.
In 2010, he and the same friends organized their first Spring Festival Wii challenge, and Loyola took the third place. Now he's determined to grab the top spot.
"That was three years ago. So much practice has happened since then," Loyola said.
With competition this intense, what prize are they fighting for? "Just bragging rights," he said.
But he added that the video games, which can get physical, are also a good form of exercise to counter all the eating and lazing around at home he'll be doing during the holiday.
Another person sticking close to home this Spring Festival is Peter Johansson.
From November until January, the 26-year-old had been traveling between China, Russia, Tanzania and his native US, and he said he wants to take a break from all the shuttling around.
But he does want to see more of Beijing, his base for the past year-and-a-half, so he came up with an idea for an adventure. Along with one or two foreign friends, Johansson plans to hop on all of the capital's subway lines and see what lies around each of the terminus stations.
"The idea was, 'What's a good way to motivate yourself to go see parts of Beijing you otherwise would not be able to or have the time to?'" he said.
"I was just staring at the new subway map ... and thought, 'What's out there on those edges?' I just have no idea."
Johansson, a research associate with the Institute for Emerging Market Studies, initially thought of spending a day on the mission. But when a reporter told him that just going from end to end on all the subway lines would take more than a day, he said he might give the plan up to three days.
"Let's see how far we get and how much fun we're having with it after the first day," he said. "If it's fun, we'll keep doing it."
Johansson said that if he has more time during the holiday, he might also pick a bus line and explore the neighborhood around its terminals.
What else will be keeping him busy during the break?
"I need to clean out my kitchen," he said.
For some men, this might be the ultimate home adventure.
tiffany@chinadaily.com.cn