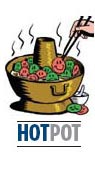 After more than a decade living overseas, I've come to consider myself a somewhat savvy expat. I've survived numerous harrowing rides on boats, trucks, buses, cars and motorcycles, have battled through many a tourist trap, never bought a "genuine" ruby from a local "trader with connections" or purchased a motorcycle from anyone's poor, deprived brother.
Yet I recently paid a princely sum for a fish and still wonder if I've been had or not.
It all began innocently enough, as these things do. On a trip to Harbin, Heilongjiang's provincial capital, where my friend went to visit her family, we met up and saw the sights - Zhongyang Dajie pedestrian street, the Russian cafes, the Church of St. Sophia and Sun Island.
Related: New baby a sensation for parents and 'aunties'
The next day, I suggested we take in the local flavor and eat at a restaurant far distant from the well-worn tourist path.
We hopped in a taxi and soon we were outside of town, over the landmark bridge that spans the Songhua River and delivered to the doorstep of a rustic restaurant that indeed looked local. Its exterior, I am certain, will never grace a colorful brochure extolling the allure of Harbin.
As the taxi man waited, we went in and discovered that fresh fish was their forte and soon selected a large, handsome specimen from the many swimming in a tank. The proprietress quickly snatched it from the water, threw it to the cement floor and battered it to death with a club before our eyes.
With that, we beat a hasty retreat upstairs, where a waitress was already stoking a wood fire. A kettle of water went over that, and we added vegetables and spices to our taste.
Our unfortunate fish soon arrived and the cooking began in earnest. As it simmered, I looked around the room - walls blackened by smoke and an out-of-date calendar with a buxom beauty hanging in one corner.
"This is a good find," I thought to myself. "The real dongbei", which is Chinese for the Northeast, a land known for its admixture of Han, Manchu, Russians and many other ethnicities.
Related: Day at the park can be disco inferno
I have to admit it was a good fish and indeed so large the two of us couldn't finish it. Sated, we went downstairs to pay the bill - which to my shock was 1,225 yuan ($200).
With my friend attempting to translate quickly, I began what could be kindly characterized as a vigorous debate. I even asked for the waiting taxi driver to join the discussion to gauge his possible complicity.
I told the restaurant staff that I was most certain I would never, ever - and I mean, ever - pay such an extortionate price for a fish. But as various other employees appeared and closed in tighter, I realized I was arguing with the proverbial fishmonger, and one who had not long before deftly bludgeoned a substantial creature to kingdom come. She still clutched the club in her hand.
I decided acceptance was more valorous and paid the bill. In return I was given several "certified" receipts, complete with stamps and official-looking seals.
The same taxi brought me back to my hotel, where I asked the concierge to again question the driver. He again denied any kickback or complicity in the whole affair. The hotel manager asked if we wanted to call the police. It would take, she said, perhaps four or five hours of inquiry before justice might be served.
Related: Where skin color attracts curiosity
It was my last afternoon in Harbin. I decided to spend it looking at a 1920s Russian hotel, not the police station.
I chalked it up to experience and vowed to relearn and truly remember this lesson: Always ask the price before eating and preferably stick to a printed menu.
But after a few weeks passed, another notion came to me. I began to wonder if I had not been cheated. What I don't know about China exponentially exceeds what I do know. Perhaps I was in the wrong after all. It could be that I unknowingly enjoyed one of the greatest delicacies of dongbei or, for that matter, the last known example of the Songhua River snouted salmon or some such species. That provided another insight - be careful what you are sure about.
I do know the incident has paid for itself in entertainment value. My friend and I now occasionally debate "going out for a fish" and have a good laugh.
jonhousen@chinadaily.com.cn