Love of books and literature motivates this young writer
Xu Duoyu, a 29-year-old writer in Hefei, Anhui province, had a successful year in 2012, with his newly published book raking in more than 300,000 yuan ($48,000).
Far Away tells the story of a family in Jinzhai county, Anhui province, during the decades before the founding of New China in 1949.
Jinzhai, Xu's hometown, was a famed revolutionary base area, but is also known for being poor.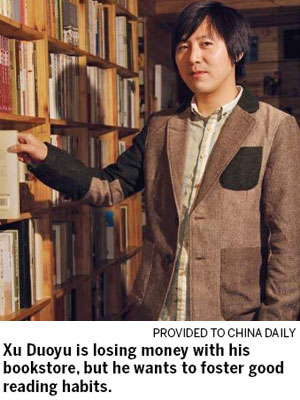 "My grandparents served in the army during the war years," he says. "And I heard a lot of stories about their experiences throughout my childhood. I understand it is a bit weird for someone in his 20s to write about a history that he does not experience, but it is also my understanding of it."
Xu grew up in a rural family and his parents are both illiterate. Even so, he has been writing since he was 15 years old, and has published seven books.
Xu quit college in 2003 while majoring in Chinese language and literature at a college in Hefei.
"I chose to study this major as I was eager to become a writer," he says. "Yet during college I found myself more inclined to writing per se, instead of learning in class."
He moved to Nanjing in 2004 and rented a small room, living by himself while writing stories based on his childhood experiences.
In Far Away he wrote about several young people from the same family who leave home for various reasons. They all want to return, but find there is no way back.
"This is also a reflection of the lives of young people nowadays," Xu says. "We all want to leave home and see the bigger world outside. Yet when we are willing to return home, we realize things have changed a lot and it's impossible to return."
The book ranked No 4 for December's sales on Dangdang.com, and Xu has been recognized as one of the most influential writers of the post-80 generation in China.
In 2009, he used his savings of 50,000 yuan to fund a private school for children of migrant workers in Anhui province.
In 2012, with his friend Han Qingcheng, a 47-year-old poet, they opened a private bookstore in Hefei. It holds literature salons during weekends and holidays, and though it loses about 3,000 yuan per month, Xu is determined to keep it running.
"We came up with the idea of opening an independent bookstore because we want to create a place where book and literature lovers can share their thoughts and ideas," Han says.
The store is named Kafka Independent Bookstore, as Franz Kafka is the owners' favorite writer.
"There are many people interested in literature who are talented and they are eager to read and share their thoughts," Xu says. "But there is never a good place for us to hang out and discuss it, except cafes and teahouses, which are usually crowded."
The store takes up 170 square meters and contains more than 10,000 books. About 2,000 of them are old books selected from secondhand book markets, and they are the most popular books in the store.
It also hosts charity events and literature salons.
"It is increasingly difficult for people to buy real books," Xu says. "The income level here is still much lower than big cities. And the free e-reading is also a big attraction for young people."
Zhang Yife, 27, who came to Hefei from Guangdong province in 2011, says she was thrilled when she learned about the bookstore. "I used to spend my free weekends in cafes and bookstores while I was in Guangdong," she says. "It's great that we have such a bookstore here."
Xu, meanwhile, is thinking ahead.
"We are thinking about calling for more people to invest in the bookstore and divide the profits," he says. "I hope this place will foster people's reading habits for a long time to come."
zhangyue@chinadaily.com.cn