Electronic 'tomb-keepers' safeguard ancient Chongling Mausoleum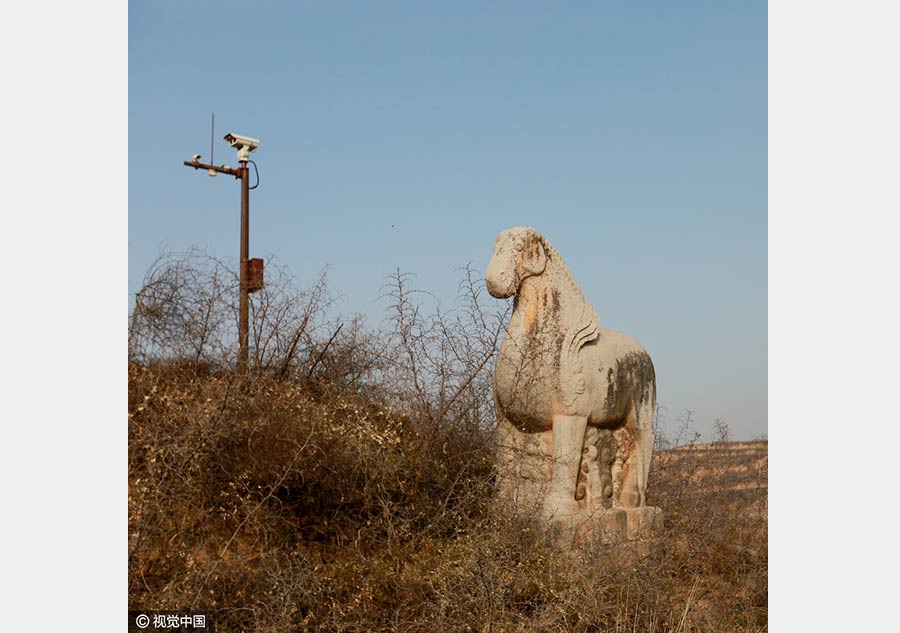 A stone animal is seen next to a security camera at Chongling Mausoleum of the Tang Dynasty in Xianyang city, Shaanxi province, Nov 29, 2016. [Photo/VCG]
Electronic monitors have been installed at Chongling Mausoleum of the Tang Dynasty (618-907) in Xianyang city, Shaanxi province, and just began a trial run. Each of the electronic cameras faces a stone relic. This is one of the high-tech programs intended to protect relics in the field above provincial level in Shaanxi province.
Chongling Mausoleum, tomb of Li Shi, Tang Dynasty Emperor Dengzong, is located at the Cuo'e Mountain, northwest of Jingyang county, Shaanxi province.
Due to recent cases of tomb robbery nationwide and at the Chongling Mausoleum in 2011, the electronic monitors were installed as 24-hour on duty tomb-keepers to safeguard the precious ruins.