Meat me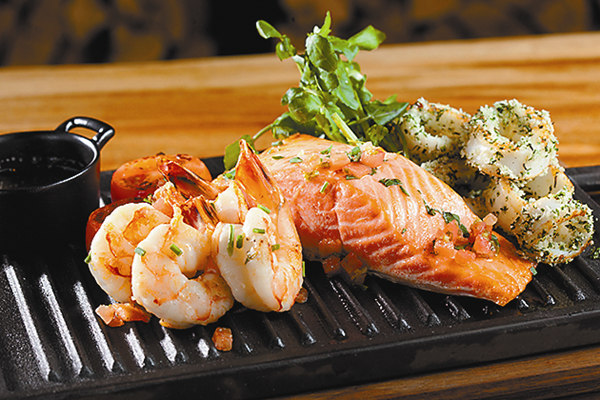 The mixed seafood grill platter features shrimps, squid rings and salmon. Photo provided to China Daily
The Chop House is a casual eatery emphasizing great cuts of meat matched with craft beers. Rebecca Lo tucks into some Flintstones-portioned dishes.
Many of us working in media have to attend our fair share of events as part of our job. While fancy bite-size hors d'oeuvres washed down with glasses of champagne can be fun, I hanker for simple comfort food after one too many cocktail parties. And that usually equates to a juicy steak in friendly, no-nonsense surrounds.
That's where Wooloomooloo Group gets it right with The Chop House. I remember dining at the first Wooloomooloo in 2004 with Hernan Zanghellini, its interior designer and co-founder. While there, he introduced me to Colin Smith, his partner and managing director of the restaurant. They had a well-defined concept: excellent quality fare in amiable places where people felt just as comfortable dining solo as they do with a date, family or colleagues.
Today, Wooloomooloo remains true to its original philosophy by offering three tiers of experiences: Prime is fine dining with a view, Steakhouse is more casual, and Chop House offers international staples with self-serve beer on tap. In recent years, Wooloomooloo has opened branches of its Steakhouse and Chop House in Singapore, extending its vision to new markets.
Smith and Zanghellini have a knack for real estate, and Hong Kong's first Chop House is situated in Soundwill Plaza II-Midtown, a stone's throw from Times Square in Causeway Bay. Being one of the first tenants in the city's next foodie paradise-Jamie Oliver's Hong Kong Italian restaurant will open in the same building this summer-The Chop House was able to secure an entire floor with a large open terrace.
I met some friends for lunch at The Chop House recently, and had to navigate around cordoned off areas since the building's exterior was still under construction. Entering the 650-square-meter third floor restaurant, I was immediately struck by the light-drenched space on a cloudy Hong Kong day. A combination of rustic wooden high tables, banquets and flexible low tables make up the generous space, while the bar was near the terrace toward the back.
I enjoyed the dominance of subway tiles cladding the walls and the bright metallic red chairs with their bentwood frames. The gentle whirl of ceiling fans added to the chic, vaguely industrial vibe.
Menus for both drinks and food were extensive. I was pleasantly surprised to see that artisan beers were plentiful, with many I had never heard of before. After much deliberation, I settled on Op&Top by Brouwerij de Molen, a fruity English-style bitter that comes from the Netherlands.
I noticed that at the bar-height tables and on the terrace were a number of kegs available for customers to serve themselves if they opt for a Chop House debit card.