Savoring a Central 'outdoor oasis': A summer treat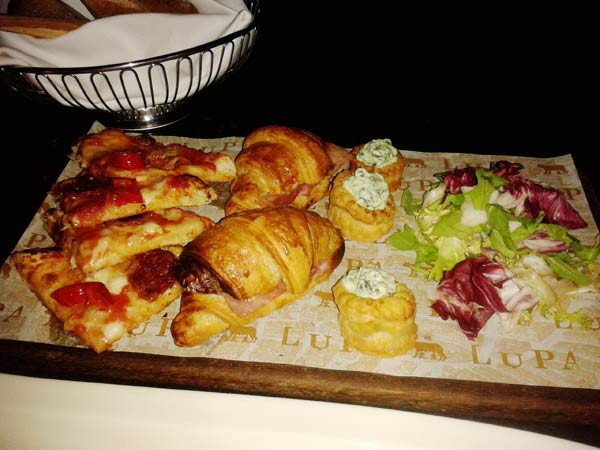 The rustici platter includes salami pizza, croissants with Parma ham, puff-pastry cups, calzone and vegetables. Photo by Donna Mah/China Daily
Sipping a glass of prosecco and staring up at the moon the other night, it occurred to me that it isn't often that I take the time to enjoy the outdoors in the middle of Central in Hong Kong. Dining al fresco has not always been attractive in a city that is both hot and very humid in the summer, but that has changed with the outdoor dining areas moving up to rooftops and the addition of cooling fans.
La Terrazza, located on Queen's Road Central in LHT Tower where the Queen's Theatre once stood, is the outdoor dining area connected to Lupa, a Mario Batalli restaurant. I have been here on a number of occasions for drinks as it is an extremely popular meeting spot, but decided to stay for dinner one night.
The menu served at La Terrazza is from Lupa. There is a selection of cold cuts (carne), cheese (formaggi), small bites (assaggi) and pizza (pizze). The food served here is not fussy and easy to share.
Start your meal with one of the refreshing cocktails. We tried the Cherry Splash, which says it is "bright and refreshing ... just like you!" and the Firma La Terrazza, made with lemon liquor, vermouth, basil and tonic water. We moved from the cocktails to sparkling wine, but the drinks list is extensive, including a full page of champagnes, followed by single malt and blended whiskeys, spirits and beers.
For food, we tried the bresaola (air-dried wagyu beef), the millefoglie al marzemino cow's milk cheese, the rustici platter with slices of spicy salami pizza, croissants with Parma ham, and puff-pastry cups filled with fresh ricotta and spinach, and calzone stuffed with spinach, ricotta, prosciutto cotto and egg. We noticed a number of other tables ordered the mini-burger served with fries and the calamari fritti served with the house-made aioli. They looked good, but we had no room for more food.
The bresaola and the cheese were a great way to begin the meal. We were able to enjoy the relatively cool evening breeze and chat easily in this "outdoor oasis" in Central while nibbling on the starters. The rustici patter arrived soon after, and we loved the hot slices of spicy salami pizza. The pizza and calzone crusts were crisp on the outside with soft and slightly chewy insides. My favorite part of the calzone was the edge, which was drizzled with extra virgin olive oil. It is always a joy to find something simple that makes one smile.
La Terrazza is a good place to enjoy a few drinks with friends outdoors out of the freezing air conditioning that is all too common in Hong Kong. I could spend a few hours here just sipping a cold drink, nibbling on hot pizza, reading a book or chatting with friends. There is also a late-night menu served from 10 pm with a starter and main for HK$288, which we will have to try on another night.
IF YOU GO
La Terrazza (Lupa)
3/F, LHT Tower, 31 Queen's Road Central, Hong Kong.
852-2796-6500.
Cost per head: HK$300-500 ($38-$65).
Recommended: Calzone, Rustici Platter, any of the pizzas.