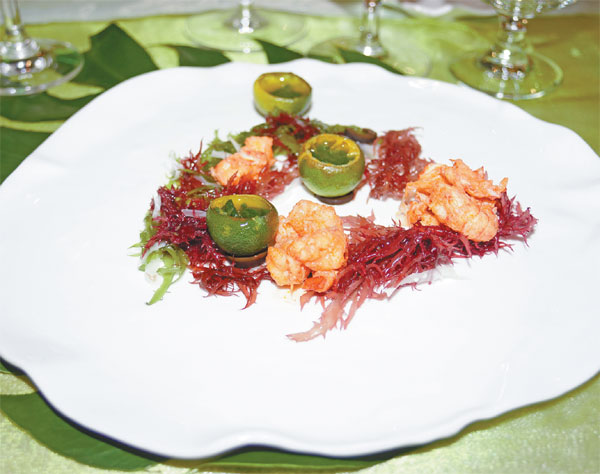 Five golden flowers is a dish on Rainbow Yunnan Restaurant's wild vegetables menu, which features dishes made with 15 herbs. [Photo by Ye Jun / China Daily]
Beijing restaurants are taking full advantage of fresh spring produce, Ye Jun discovers.
Great herbs and vegetables have arrived on restaurants' dining tables on the breath of spring, and some chefs in Beijing are taking the chance to cook up tasty and healthy fare. Southwest China's Yunnan province is famous for producing wild flowers and herbs. Some of these are available only in spring and early summer. Rainbow Yunnan Restaurant at Crowne Plaza Beijing Sun Palace has taken some of these delicacies to incorporate into healthy and delicious dishes. The restaurant has drafted a wild vegetables menu featuring 16 dishes made with 15 herbs. The dishes are fried, cold assorted, or paired with egg, beef and aubergine.
"There is a reason the herbs grow in spring. And there is a reason we eat them," says Zhang Jianhui, executive chef with Rainbow. "The wild vegetables can not only help people lose some weight but also increase immunity."
Rhizoma gastrodiae, for example, is commonly used in China to dispel pains such as headaches, caused by wind, and for anti-aging purposes. But it has increasingly become a delicacy.
Zhang fries slices of Rhizoma gastrodiae to be fresh and crispy, decorating them with slices of cordyceps and wrapping the herbs in two lettuce leaves. Because of the high price of the herbs, the dish is one of the more expensive, priced at 147 yuan ($23).
Pseudo-ginseng leaves are fried with matsutake oil to taste really tender and make them a bit slippery. Pseudo-ginseng, or sanqi, can invigorate blood circulation and reduce fatigue.
Radix isatidis (banlangen in Chinese) is another herb commonly used in China to treat colds. The medicine is usually used as an electuary, but here fresh Radix isatidis leaves are fried into a tasty, though slightly bitter, dish.
Some wild vegetables are prepared with meat or eggs. Dried bracken, for example, is combined with braised beef sirloin. The bracken absorbs the juice from the beef and becomes flavorful, while the beef becomes less greasy.