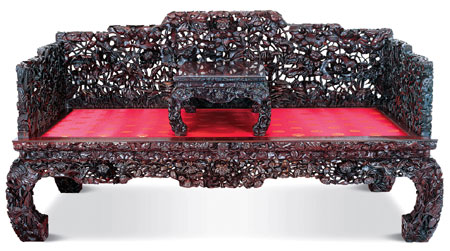 A legacy of old-time royal luxury, rosewood furniture is a living fossil of a privileged lifestyle.
Rosewood carving, which turns fine material into exquisite artworks, is among the best gifts history has left China's capital.
Most sandalwood is produced in tropical areas - little is grown in China. But the nation became the biggest repository of rosewood timber during the Ming Dynasty (1368-1644).
Zheng He's historical expeditions in the early 15th century to Southeast and South Asia brought back large amount of the luxuriant wood to make furniture cherished by the emperors and nobles.
Rosewood was continuously shipped to China during that dynasty. Since a rosewood tree grows very slowly, only 15 percent of the timber is suitable for carving. The world's sandalwood reserve was almost used up in the subsequent Qing Dynasty (1644-1911), ending a flourishing era of the art.
Nevertheless, no matter how rare the material is, the craftsmanship is even more precious. Only the best artisans have been allowed to touch the fine timber because rosewood carving requires the most complicated technique among all woods and needs an extraordinary scrutiny of details, experts say.
People can still feel the classical flavor through these splendid pieces and enjoy this look at the past.
IF YOU GO
The Palace Museum, 4 Jingshanqianjie, Xicheng district
China Red Sandalwood Museum, 23 Jianguo Road, Chaoyang district
Guanfu Museum, 18 Jinnan Road, Dashanzi Zhangwanfen, Chaoyang district