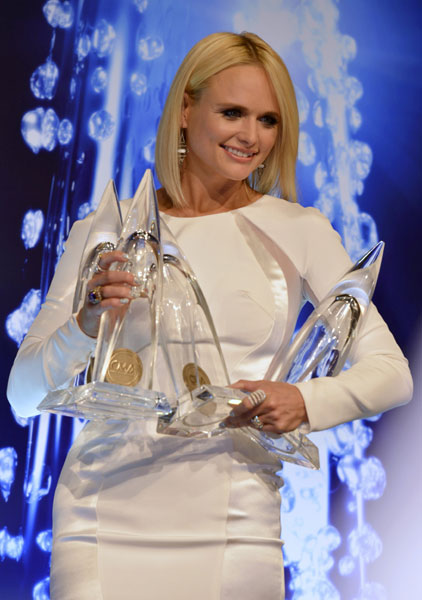 Musician Miranda Lambert poses with her awards which include Female Vocalist of the Year, Musical Event of the Year, Album of the Year and Single of the Year during the 48th Country Music Association Awards in Nashville, Tennessee November 5, 2014.[Photo/Agencies]
American singer Miranda Lambert shines bright at this year's country awards. Associated Press reports in Nashville, Tennessee.
Miranda Lambert is the queen of contemporary country music.
The singer picked up three awards at Wednesday's Country Music Association Awards, including album of the year for Platinum.
"Holy crap!" she said onstage. "I turned 30 last year and I felt like I need to sing about new stuff."
"This is really, really special to me," she said, appearing teary-eyed.
Lambert, who earned the most nominations of any artist with nine, also won music event and single of the year. She was the only female nominated for entertainer of the year, the award for which was presented to Luke Bryan at the end of the show.
The show was aired live on ABC from the Bridgestone Arena in Nashville.
Lambert kicked off the show, teaming up with Meghan Trainor for a country-tinged version of All About That Bass, rocking her big blond hair.
That was followed with a hilarious string of jokes from Carrie Underwood and Brad Paisley, the white-hot duo hosting the seventh CMAs and earning laugh after laugh for jokes that ranged from Ebola to Taylor Swift.
Swift's switch to pop from country was referred to as "Post Pardon Taylor Swift Disorder" or PPTSD.
"President Barack Obama doesn't care about PPTSD!" Paisley yelled. Underwood followed with: "I'm pretty sure it's why the Democrats lost the senate."
Underwood and Paisley sang a version of Dolly Parton's Jolene, calling it "Quarantine". Paisley also earned roaring laughter when he noted that the ABC series Black-ish, which airs on Wednesdays, would not be airing because of the CMAs.
"If you were expecting to see the show Black-ish, this ain't it ... I hope you're enjoying 'White-ish'," he said.
Before the show began, Underwood glowed on the carpet in a shimmering gold dress, while Trainor went with a blue lace mini and Kacey Musgraves made a style statement as she rocked her teased hair.
Musgraves, who earned two Grammys earlier this year, won song of the year for Follow Your Arrow, which she co-wrote with Brandy Clark, who is openly gay and was among the contenders for new artist of the year.
"Oh my goodness! Do you guys realize what this means for country music?" Musgraves said, as Clark and songwriter Shane McAnally stood behind her. "Our genre was built on simple good songs about real life and that's what this was."
Musgraves performed with Loretta Lynn, Blake Shelton sang with Ashley Monroe and pop diva Ariana Grande sported a mini top and skirt as she sang the hit Bang Bang alongside Little Big Town, who won vocal group of the year.
Dierks Bentley, who was up for song of the year, also performed and was an earlier winner when his hit Drunk On a Plane won music video of the year, announced on Wednesday morning.
Florida Georgia Line won vocal duo of the year for a second time and Brett Eldredge was named new artist of the year.