Hesitant star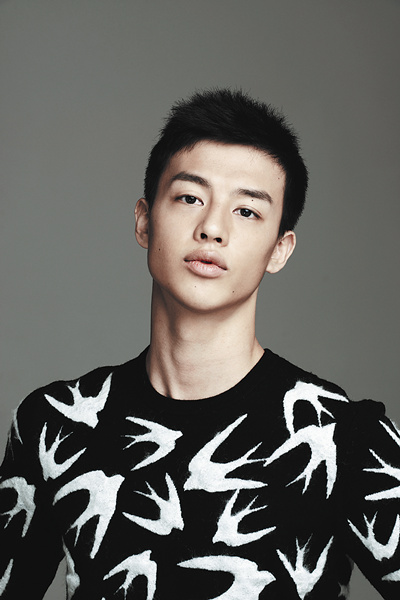 Yin Fang plays the leading character in Cui Jian's directorial debut movie Blue Sky Bones. Beijing-based Yin works as an independent dancer choreographer and seeks to be involved in more creative and collaborative projects. Photo provided to China Daily
The classical-dance specialist couldn't quite see himself in a rocker's shoe but Yin Fang blossoms in the unexpected casting in a new film. Chen Nan reports.
Four years ago, when Cui Jian, known as the "godfather of Chinese rock music", invited Yin Fang to play the leading character in his directorial debut movie Blue Sky Bones, Yin didn't think it was a great idea. The contemporary choreographer-dancer, then 24, was being invited to portray Zhong Hua, a young rocker who makes a living as a hacker.
Yin started learning ballet at the age of 3, and he grew up with classical music. He had never listened to rock music until he met Cui.
The first-time actor prepared himself for another role during the audition, that of Sun Hong, who dances in an army cultural troupe. Yin liked the character very much because he "felt close to him".
"Zhong did not impress me as much as Sun did, when I first read the script," says Yin. In the film, the rapper struggles between his music dream and reality while the love story of his later divorced parents unfolds during the "cultural revolution" (1966-76) told by his father, who is dying due to testicular cancer.
But Cui managed to convince Yin that he was right for Zhong. As Yin read the script again and listened to Cui's music, he started to understand the character: a socially inept and emotionally shuttered young man.
"Cui is like a poet and his lyrics are romantic," says Yin, who found that both Zhong and he were "introverted and idealistic".
Since music functions as another character in his movie, Cui urged Yin to spend a few days with two Beijing-based hip-hop singers to better prepare for the role.
"I felt uncomfortable in the beginning since we barely knew each other. They didn't have a decent life, living in faraway places and making little money, but I found to my surprise that I liked these people. No matter what they do, they show their attitude," recalls Yin, who attributes his performing of Cui's song, Blue Sky Bones, in the movie to that experience.
"Although I didn't sing the song myself in the movie, I think my body language as a rapper was convincing," he adds.