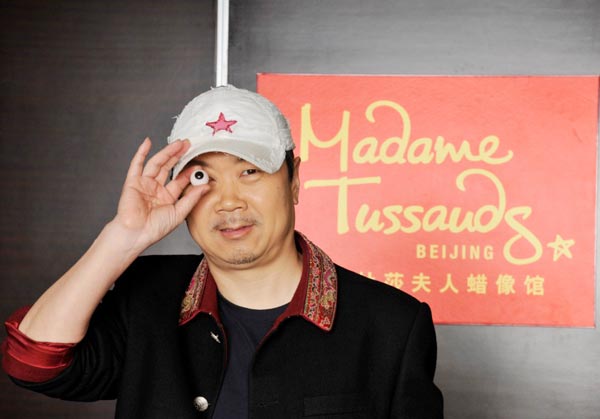 Chinese musician Cui Jian compares his eye to a wax eyeball in Beijing in June, 2013. The Wax figure of the Chinese godfather of rock'n'roll will be unveiled at Madame Tussauds Beijing this May. Photo provided to China Daily
A wax figure of Cui Jian, the Chinese godfather of rock 'n' roll, will be unveiled at Madame Tussauds Beijing this May. The 52-year-old rock singer-songwriter sat for his wax replica in June 2013.
The Madame Tussauds team flew from their London studio to Beijing and spent 3 hours measuring Cui's wax replica. The team also took hundreds of photos of the rock star to ensure the figure's authenticity. The rocker was closely involved in his wax figure's creation and offered several instruments for the team to reference.
Cui, who is considered a pioneer in Chinese rock music history, will be the first rocker featured at Madame Tussauds Beijing. Since he released his debut album, Rock and Roll on the New Long March, in 1987, the first rock album in Chinese history, Cui has been an influential figure with well-known songs, including Nothing to My Name and A Piece of Red Cloth.
He kicked off his nation-wide Blue Bone concert tour in 2012 and his directorial film debut, Blue Bone, was released in early 2013. Located at Qianmen, a popular commercial area in Beijing, Madame Tussauds Beijing will be the sixteenth Madame Tussauds location worldwide and the fourth in China.