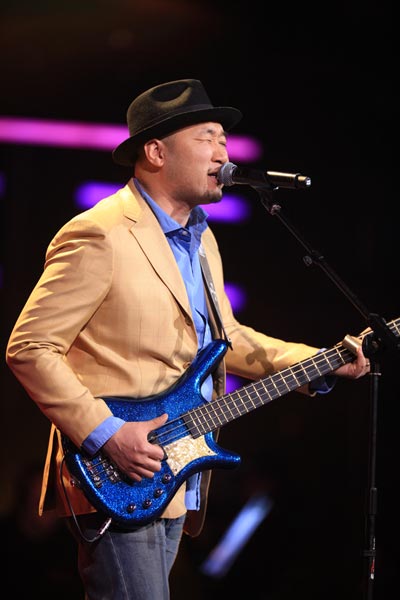 Beijing-based musician Zhang Ling brings blues music to a broader audience through a TV show. Provided to China Daily
Zhang Ling was one of the first Chinese musicians to play the blues. Twenty years ago, he formed China's first blues band, The Rhythm Dogs, and has been playing bass for Cui Jian, China's godfather of rock 'n' roll, for 10 years. He has also recorded with big-name Chinese singers like Faye Wong, Liu Huan and Li Yuchun. His bar, CD Blues, is a driving force in the capital's alternative music scene.
These achievements were little known by the wider public before the 47-year-old singer-songwriter appeared on the stage of Sing My Song, a popular Chinese reality talent show, which premiered on Jan 3.
He performed a song called Drinking Blues, about a heartbroken man drinking in a bar. His fiery yet intricate performance sounds well rehearsed, but he says the rhythm simply came to him one day when he was driving along a crowded Beijing street.
"The other night, I was drunk/That girl said she loves me and wants to spend her life with me/But later I found she also said the same thing to others," he sings.
Veteran singer-songwriter Liu Huan, one of the four judges on the show, gave a cry of surprise when he saw Zhang.
"You are one of the best bass players in China. I didn't expect you to come on the show," Liu said to Zhang. "But I am really glad because now more people can enjoy the blues."
Perched on a tall stool at CD Blues in downtown Beijing, Zhang says: "It might be the first time some of the audience members had heard blues music performed in Chinese."
The back wall of the bar is full of pictures of blues music masters and Zhang's bands. Someone has written: "Sing like no one is listening."
As the owner of the bar, Zhang takes care of everything, from replacing the light bulbs to paying the water bill. He spends most of his time there and enjoys it very much.
For Zhang, live shows bring vitality to music so he enjoys performing at his bar and jamming with musicians from across the world.
The night Sing My Song was broadcast, he was playing with his band at the bar.
"His lyrics and the blues rhythms match so well. It feels like they belong to each other," says Lao Zai, a veteran songwriter and music producer, who performed with Zhang during the show. "For a long time, Chinese musicians have been looking for a way to present Chinese music to the world. But most of the work focuses on the scale or form rather than the content. Zhang does a great job."