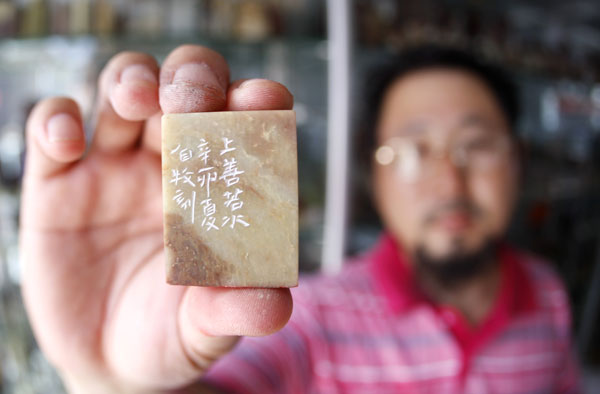 Zhang Wei shows a stamp he carved inJinan, Shandong province, July 10, 2011. [Photo by Liang Zhijie/Asianewsphoto]
Zhang Wei, 51, does not want to give up hand-carving stamps despite that reality that the business faces a struggle to survive.
Zhang, a native of Jinan, Shandong province, has been doing the job for more than 30 years. He learned the handcraft from a well-known expert in the industry when he was a teenager.
As computer stamps become popular, the business of hand-carved stamps struggles to survive. Zhang fine tuned his skills to carve artistic stamps.
"Compared with computer stamps, handmade stamps are more artistic," said Zhang.
In his spare time, Zhang likes reading books on stamp carving. Zhang said, "Stamp carving is a profound skill worth a lifetime of study. I'm unwilling to give up this art."