Up where he belongs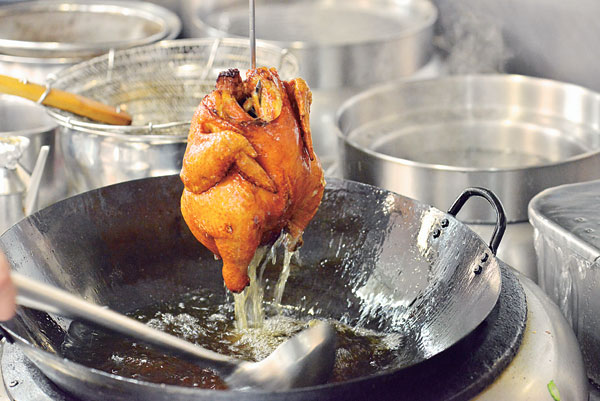 The Cantonese spring chicken is painstakingly cooked by pouring boiling hot oil over the marinated bird, a test of the chef's skill and stamina. [Photo provided to shanghai star]
The air is justifiably rarified. It has an enviable location with views of the Huangpu River, and its executive chef has already been repeatedly decorated with that enviable epicurean accessory - the Michelin Star. Pauline D. Loh goes up market.
On the 53rd floor of the The Ritz-Carlton Shanghai, Pudong, diners at Jin Xuan enjoy some of the best views of the Hangpu River and China's most vibrant urban landscape. The restaurant takes full advantage by splitting up dining areas on two levels so guests can enjoy the broad vista.
But the main attraction is always the food.
The menu is a throwback to tried and tested Cantonese classics, and there is a ring of comfortable familiarity.
Executive chef Daniel Wong cut his teeth in the kitchen at 14, working his way through the traditional mentor-disciple systems. But unlike his older laid-back peers, Wong was already aiming for the stars - the Michelin stars - by the time he was leading his own team.
He comes to the Ritz-Carlton fully decorated, having earned recognition as early as 2009 with his first rating in the Michelin Guide, and again the following year.
Sometimes the simplest dishes are the best test for a chef. In this case, a simple fried chicken and a dish of stir-fried white custard tell the tale. The latter, especially, instantly betrays the chef's culinary pedigree.
The White Custard is also known as Stir-fried Fresh Milk, a specialty of the Daliang region in Shunde county, Guangdong province.