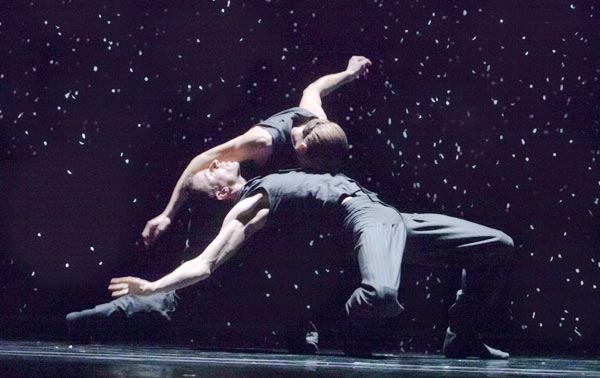 The Nederlands Dans Theater, seen here performing Solo Echo, with choreography by Crystal Pite, appeared at the National Center for the Performing Arts in Beijing on Friday and will perform there again on Saturday. Photo provided to China Daily
Editor's Note: A variety of cultural activities will be held during the APEC meetings in Beijing, providing delegates with ideal opportunities to relax. China Daily reporter Chen Nan takes a look at a dance company and a string quartet, just two of the attractions on offer.
For modern dance lovers, the Nederlands Dans Theater is synonymous with the best contemporary dance in the world.
With three companies under its name-the NDT 1, which gathers the top dancers of the NDT; the NDT 2, which offers a platform for young dancing talent; and the NDT 3, for dancers older than 40-the troupe has created an international reputation for its pioneering exploration in techniques of dance and creative choreography.
At the ongoing Dance Festival at the National Center for the Performing Arts, 28 dancers from the NDT 1 performed in Beijing on Friday and will perform again on Saturday.
In 2008, the NDT 1 and 2 performed at the NCPA in May and October, with works by the NDT's longtime artistic director and choreographer, Jiri Kylian.
The 2014 performances comprise five works, including Hello Earth by choreographer Marco Goecke and Softly as I Leave You and Stop Motion, both choreographed by two of the company's resident choreography partners, Paul Lightfoot and Sol Leon.
Medhi Walerski, an NDT 1 dancer and choreographer, will perform one of his works, Chamber.