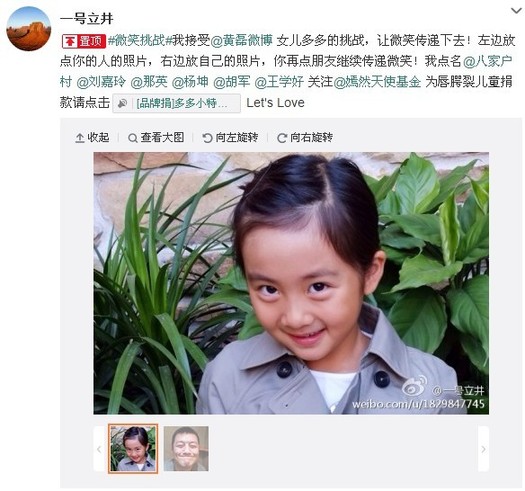 A screenshot of Li Yapeng's post on Smile Challenge.
The "Smile Challenge" has gone viral on Chinese social networks with more than 59,000 comments on the topic on China's Twitter-like Sina Weibo.
The challenge to benefit children with harelips sprang up in celebrity circles: Chinese Actor Li Yapeng published a post on Sina Weibo Friday afternoon, accepting a challenge from actor Huang Lei's daughter, Duoduo, uploading his smiling picture, inviting more celebrity friends such as Chen Jianbin, Yang Kun, Liu Jialing to accept the challenge.
Yang Kun and Liu Jialing, both well-known stars, accepted the challenge and invited more to get involved and it snowballed.
As of Monday morning, there have been 220 million hits on the topic on Sina Weibo, 59,000 comments and numerous netizens showing their smiling photos on the network.
The challenge also became popular on Wechat (Chinese instant messaging software) with people of all ages, teenagers to the middle aged, showing their smiling faces in their friend circles.
The celebrities also spread the Smile Angel Foundation in their challenge posts and called for fundraising to benefit children with harelips. So far the foundation has collected more than 100,000 yuan ($16,300) with more than 1,500 netizens involved in the donation.
Hu Zhifeng, professor of psychology at Beijing Normal University, praised the Smile Challenge, saying it spreads warm and positive energy on social networks.
A few months ago a similar "Ice Bucket Challenge" swept from Facebook to China's social network, collecting more than 7.5 million yuan from Chinese internet users for ALS (amyotrophic lateral sclerosis) sufferers.