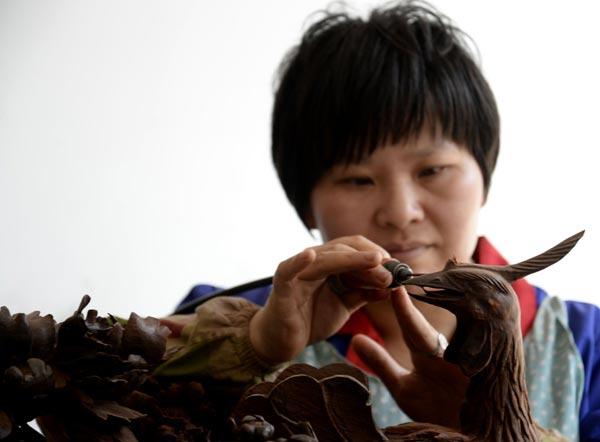 An artisan carves a phoenix on rosewood at a furniture factory in Dongyang, Zhejiang province. [Photo/China Daily]
Demand for quality products goes up as raw material nations invoke stringent regulations 
With the rapid growth in personal income, making sound investments has become a priority for many people in China and that is only expected to grow in future.
The investment avenues vary from gold and real estate, to personal investment products, even Bitcoins. But as well as those more conventional forms of investment, there are also more alternative options available, one of which in particular has been enjoying something of a renaissance of late: quality rosewood furniture.
Lin Huadong, the chairman of Zhejiang Collection Association, says that compared with the vagaries of real estate and stock market, the price of rosewood furniture has been growing a lot more steadily.
"The price of raw Siam rosewood material, for example, has grown from 20,000 yuan ($3,220) a ton six years ago to 150,000 yuan a ton last year, and with the growing scarcity of the raw material, the price will continue to rise," he says.
At November's China Guardian Auctions, a rosewood chair from the Ming Dynasty (1368-1644) was auctioned off for 23.57 million yuan.
Three years ago, just 15.4 percent of the rosewood furniture up for sale at the company's autumn auction sold-this year 87 percent of it left the rooms with new owners, he says.
The increased enthusiasm for rosewood, he says, has come mostly because of the release of new international regulations.
In 2014, five categories of valuable rosewood, including the Siam rosewood, were newly listed by the Convention on International Trade in Endangered Species of Wild Fauna and Flora as recommended for limited export.
From April 1 last year, Myanmar-previously a key provider of rosewood for China-banned rosewood export altogether to protect its key wood species.
Lin says that the listing of wood species by CITES and the Myanmar ban accelerated the demand for rosewood furniture, and thinks that the market for quality antique, and even much newer, rosewood furniture made from the five species will grow by 40 to 50 percent every year.